The Memorial Gardens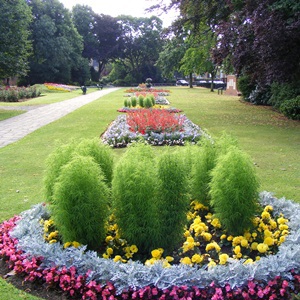 The south side's formal landscape features include a sunken rose garden, a sensory garden and impressive stretch of seasonal display beds set in well maintained lawns. Shrub border plantings punctuated by mature trees form prominent features around the southern edge of the garden. Lawns, specimen trees and an informal pond make up the rest of the south side landscape which also accommodates the old Carnegie Library building, currently occupied by the Aurora Wellbeing Charity.
The original gardens are situated around the Carnegie Library, which was opened in 1938 by Colonel Mitchell. This area offers a quiet area set amongst seasonal bedding displays. A plaque commemorates those who died in the First World War.
Priorswell Entrance Area
This paved area with benches has a variety of trees and shrubs which provides a quiet retreat with all year round interest with stunning views across to The Priory.
Sensory Garden
The sensory garden replaced the disused lido in 1995 with its built up beds, pergolas, trellis and plants chosen for their texture and smell and provides a stimulating experience for all visitors.
---
Last Updated on Wednesday, January 4, 2023