Activities and events in The Canch
2022 events
Mystery of the Secret Keys - The Canch summer storytrail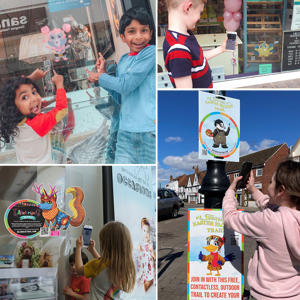 As part of local plans to give families a summer of fun, from 18 July to the 31 of August, we have teamed up with High Street Safari to run a free story-trail in The Canch, Worksop. This innovative experience let's family choose what happens in the story and enables anyone with a smartphone to take part. Players will not only discover cute characters along the route, but they also get to see them burst to life in augmented reality and take selfies and record videos with them.
The idea behind the event is to encourage families to come into The Canch with a free, exciting event that gets kids out of the house. Shopping parents will love being able to get the kids on board with and families looking for a relaxing day out can encourage kids to have a screen-time break, do some walking and get rewarded at the end.
The Mystery of the Secret Keys is located at ten stops around The Canch, positioned so that families can discover hidden parts of the park. Families will be guided on their trip by The Luminauts, an interstellar team of superheroes, on an adventure as they find special keys that release 10 gem-eating beasties in AR.
The trail takes about forty-five minutes to complete but can be completed in more than one visit. It's completely free for families and groups to take part in and they win a free, digital fun pack at the end.
The trail works without the need for families to download or sign up to anything, and works on any smart device. While it has been designed so that there is no need to go inside the venues, some participating businesses are offering discounts and vouchers to come in while you visit.
The trail runs from 18 July 2022 to the 31 August 2022.
How to take part
Taking part in the storytrail is simple!
Visit the High Street Safari website to see the trail map
Visit each of the key locations in the park
Scan their unique QR codes with your smartphone, choose what happens in the story and take funny selfie with the character in AR
When you have found them all download your free digital fun pack
Want to host an event?
Individuals or groups interested in using the park for an event or activity can submit a request to the Parks and Open Spaces Team by completing the 'Hold an Event' form.
The main events field
An open grassed area edged with mature trees provides a location for the staging of community events and activities. The remainder of the north side landscape is occupied by lawns, mature trees and the former bowling green area which awaits redevelopment.
The Splash Park
The extremely popular outdoor splash pool attracts many visitors from both within and outside of the District.
This fenced-off safe area is further enhanced by a desert island theme which includes a ship-styled and other equipment for younger children.
The Splash Pool operates on a seasonal basis and will be open daily from May to September.  Please note that the operating times may be subject to change at short-notice due to maintenance or adverse weather conditions.
Play Area
The junior play area adjacent to the splash park provides more stimulating and challenging integrated play in the form of a zip wire, basket swings, climbing frame and much more.
The Adizone
The Adidas branded outdoor gym facility is open all year round come rain or shine so a walk or jog in the park can be followed by some toning activity to provide you with a great body work out, at any time of the day, completely free of charge.
Skate Park
The 'plaza style' skate park was constructed in 2011 after wide-spread consultation with local users and community groups.  now a firm favourite for skaters and riders of all abilities its features include; big red banked wedge, pole jam, euro gap and much more.
---
Last Updated on Wednesday, July 20, 2022