Vision
By 2040, the Heart of Worksop will be a vibrant and welcoming mixed use neighbourhood. It will be home to a growing residential community and other complementary everyday services, with strong links to the nearby Worksop Waterfront and the Station Gateway.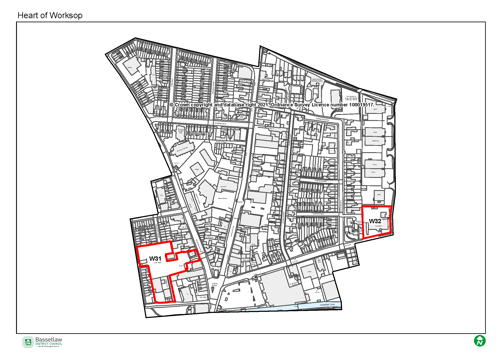 DPD Proposals
Priorities for Regeneration
Connections

Improve connectivity for pedestrians, cyclists, e-vehicles and vehicles.
Implement a clear route hierarchy and wayfinding to enhance connections to the town centre, Worksop Railway Station, nearby green infrastructure assets and Victoria Square
Improve traffic flow within and through the neighbourhood
Maintain and where possible enhance towpath connectivity along the canal
Living and Working

Diversify the commercial and everyday economic uses within the area
Introduce sustainable, affordable urban living to increase footfall and to provide natural surveillance

Experience

Strengthen the identity and historic character of the town
Enhance public realm and streetscape to aid legibility

Environmental

Facilitate the re-use of brownfield land and underused/vacant buildings to benefit the environment
Contribute to urban biodiversity net gain
Site allocations
Gateford Road Car Park (W31)
Redevelopment of site will provide 40 townhouse dwellings and apartments as well as commercial floorspace.
Former Fire Station Site (W32)
The site will be redeveloped to deliver 15 apartments.
---
Last Updated on Wednesday, June 9, 2021