The updated guidance from the Gambling Commission for licensing authorities recommends that, like operators, licensing authorities complete and map their own assessment of local risks and concerns by developing local area profiles to help shape their statements (although there is no requirement to do this). The objective of the profiles is to set out what the local area is like, what risks this might pose to the licensing objectives, and what the implications of this are for the licensing authority and operators.
Bassetlaw District Council has taken the decision to produce a Local Area Profile.
Bassetlaw District Council Local Area Profile The Gambling Commission issue codes of practice under section 24 of the Gambling Act 2005, about the manner in which facilities for gambling are provided to ensure that:
gambling is conducted in a fair and open way
children and other vulnerable people are protected from being harmed or exploited by gambling
assistance is made available to people who are, or may be, affected by problems related to gambling.
New code provisions covering risk assessments and local authority area profiles will come into force in April 2016. Operators will be required to prepare a risk assessment for their business which takes into account the nature and characteristics of the locality in which they are situated. For example the proximity of schools, churches, etc. and/or whether the business is located on a walking route for local schools. Such risk assessments can make reference to the Council's Local Area Profile which may be compiled with respect to reported gambling-related problems in an area.
The following area profile has been drafted to facilitate Operators being able to better understand the environment within the Bassetlaw District.
Bassetlaw is the northernmost district of Nottinghamshire, England, with an estimated population of 114,143 (2014 figures provided by the Office for National Statistics). The district is predominantly rural, with two main town centres of population being Worksop, and Retford. Bassetlaw District Council has a total of 20 gambling premises licences. The majority of premises holding gambling premises licences are situated in Worksop and Retford however 2 betting premises can be located in the smaller town of Harworth.
The motorway services at Blyth generally service drivers utilising the A1 and the B0645. The Premises are situated away from the A1 and can be accessed by anyone using the nearby minor roads; the services are open 24 hours.
Harworth, where there are two betting premises, is an area which is earmarked for regeneration involving building of residential premises and business opportunities over the coming years.
| Premises | Number of premises in Bassetlaw |
| --- | --- |
| Betting | 14 |
| Bingo | 1 |
| Adult gaming centres | 4 |
| Family entertainment centres | 1 |
Map showing locations of Premises in Bassetlaw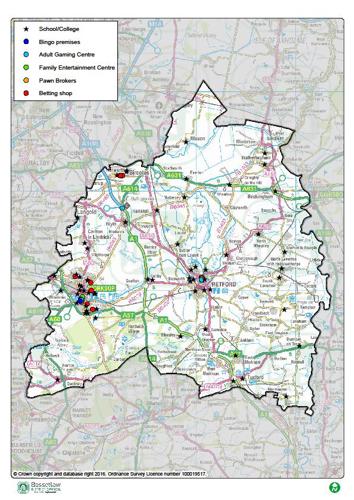 Location

Number of premises

Worksop

Nine (9) Betting

One (1) Bingo

Two (2) Adult gaming centre

One (1) Family entertainment centre

Retford

Three (3) Betting

One (1) Adult gaming centre

Harworth

Two (2) Betting

Blyth Motorway Services

One (1) Adult gaming centre
Each locality has its own challenges and in order to assist applicants Bassetlaw District Council has produced maps of the area containing the location of existing gambling premises, educational establishments and pawn brokers/pay day loan establishments. Applicants are further encouraged to conduct research of the local area to identify centres dealing with vulnerable persons (such as children's homes).
Map showing locations of Premises in Retford
Map showing locations of Premises in Worksop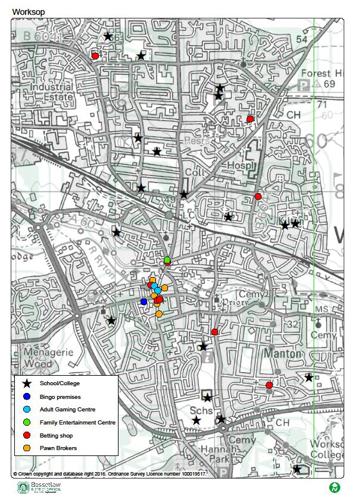 ---
Last Updated on Tuesday, January 31, 2023