We support employees who are reservists, are spouses of serving military personnel, and encourage employees to become Cadet leaders.
Up to 12 additional days paid leave, extended to Cadet Force Adult Volunteers to encourage our employees to consider this route
A flexible working policy to assist with military commitments
Management support in preparation for, during and after mobilisation
Access to an Occupational Health service
Access to an employee support line, a confidential counselling service
'Wear Your Uniform to Work' Policy.
Spouses and partners of regulars and reservists are to be given flexibility e.g. approval for longer periods of leave prior to mobilisation. Flexibility to accompany partner on any medical visits necessitated on return etc. The Council is registered with Forces Family Jobs.
We advertise jobs through the Career Transition Partnership.
Defence Employer Recognition Scheme
The Defence Employer Recognition Scheme (ERS) encourages employers to support defence and inspire others to do the same. The scheme encompasses bronze, silver and gold awards for employer organisations that pledge, demonstrate or advocate support to defence and the armed forces community, and align their values with the Armed Forces Covenant.
Bassetlaw District Council is proud to hold the Gold Award.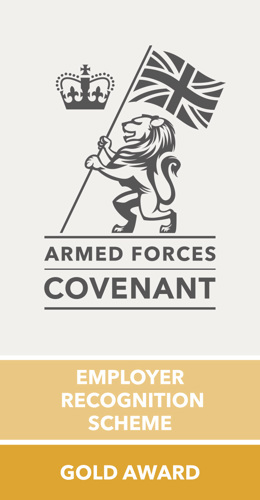 The Council encourages other businesses to sign up to the scheme.
Armed Forces Day 2020
The Armed Forces Day flag was proudly flown in Worksop and Retford market squares throughout Armed Forces Day 2020.
We would like to thank all members of the Armed Forces past and present for their service to our country and in our communities.
In 2020 we celebrated our #MercianWarriors, past and present, and are grateful for all they have achieved this year through their continued selfless commitment and dedication to serve the nation. Working alongside NATO partners and other allies, they continue to deliver security at home and abroad. Adaptable and ready, most recently regular and reserve soldiers of The Mercian Regiment have been deployed across the country, assisting with the delivery of self-administered COVID-19 tests to those in need.
Video provided by Maj GMJ Dixon of the 4th Battalion, The Mercian Regiment, Nottingham
---
Leaving the armed forces can have a huge impact on your life and your family. Not only must you find a new job and housing, but also settle your family into schools, jobs and social activities.
A wide range of services are available from Bassetlaw District Council and our partner organisations that can help with your resettlement.
Bassetlaw District Council has marked its support for the local services community by adopting an Armed Forces Covenant.
The covenant is a voluntary statement of mutual support between a civilian community and its local armed forces representatives. It not only recognises the contribution of serving personnel, their families and veterans but importantly it identifies practical ways the Council can help them access support to help them adjust to life after leaving the services.
In turn, the armed forces promote ties with the local community and offer support wherever they can.
Other partners and local groups, have also signed up to the principles in the Armed Forces Covenant, including Nottinghamshire Police, local NHS services, Nottinghamshire Fire & Rescue, Job Centre Plus, and BCVS on behalf of local voluntary and community services.
You can read the Bassetlaw Armed Forces Covenant for additional information.
There are a range of national and local support services listed here. There are also local organisations that welcome ex forces personnel and their families to join them.
The Armed Forces Champion for Bassetlaw is Councillor Gillian Freeman.
---
Last Updated on Tuesday, July 4, 2023