Compliance Statement
Contents
Strategic Context
Bassetlaw District Council sits in the centre of five district councils with South Yorkshire to the north/north west, two district councils within Nottinghamshire to the South and the District Council of West Lindsey and the Unitary Council of North Lincolnshire to the east of the district. It is located within Nottinghamshire County Council and Sheffield City Region Combined Authority and forms a part of the D2N2 (Derby, Derbyshire, Nottingham, Nottinghamshire Local Enterprise Partnership).
Figure 1 illustrates the relationship between Bassetlaw District Council and the neighbouring authorities.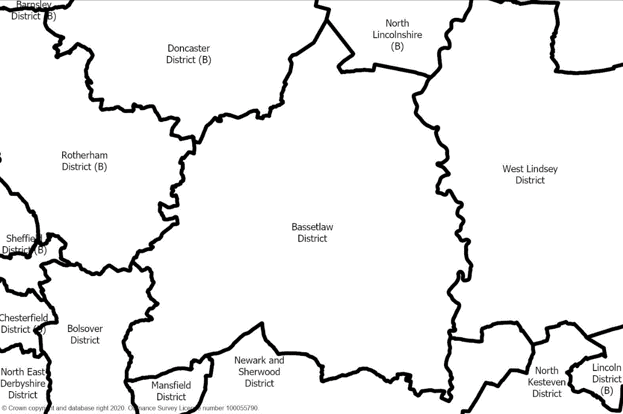 Legal Requirement
The Duty to Cooperate is a requirement of the Localism Act 2011 and the duty requires the Council to cooperate with other local planning authorities and other public bodies in preparing and developing development plan documents and other local development documents so far as it relates to a strategic matter 1.
In this regard, the Council and others are required to engage constructively, actively and on an ongoing basis. The national planning policy framework (NPPF) states that "strategic policy-making authorities should collaborate to identify the relevant strategic matters which they need to address in their plans." 2
A strategic matter is defined as "sustainable development or use of land that has or would have a significant impact on at least two planning areas, including (in particular) sustainable development or use of land for or in connection with infrastructure that is strategic and has or would have a significant impact on at least two planning areas''. 3
The NPPF strengthens the concept of the Duty to Cooperate by requiring that Local Planning Authorities produce and publish one or more Statements of Common Ground (SoCG). These documents should be kept up to date by authorities and prescribed bodies and neighbouring authorities to document cross boundary matters and the progress made on them (paragraph 27). This is detailed further in the government's Planning Practice Guidance (PPG).
The Localism Act 2011 and The Town and Country Planning (Local Planning) (England) Amendment Regulations 2012 sets out a list of prescribed bodies; it applies to all Local Planning Authorities, County Councils and a number of public bodies.
Bassetlaw DC has the duty to cooperate with the following neighbouring authorities and public bodies:
Nottinghamshire County Council
West Lindsey Council (Joint Central Lincolnshire Planning Authority)- Combined Authority for Lincoln
North Lincolnshire District Council
Sheffield City Region (SEP)- Combined Authority for South Yorkshire
Newark and Sherwood District Council
Mansfield District Council
Bolsover District Council
Rotherham MBC
Doncaster MBC
Environment Agency
Highways England
Natural England
Historic England
Bassetlaw Clinical Commissioning Group (CCG)
Integrated Transport Authorities
Environment Partnerships (incl. Canal and River Trust and Nottinghamshire Wildlife Trust)
Utilities – Water Companies (Severn Trent and Anglian Water) and Western Power Distribution
In addition, as described in the Regulations as being bodies that should 'have regard to' includes the Local Enterprise Partnerships (LEPs) and Local Nature Partnerships. In relation to Bassetlaw DC this includes:
D2N2 – Derby, Derbyshire, Nottingham and Nottinghamshire Local Enterprise Partnership
Lowland Derbyshire and Nottinghamshire Local Nature Partnership
National Trust (Clumber Park)
Emergency Services (Fire, Police and Ambulance)
Record of Meetings and Statement of Common Ground
Bassetlaw DC attend multi-agency and authority groups which meet regularly to discuss strategic issues and cross border matters. A full list of meetings is included in Table 2 in the Appendix.
Table 2 in the Appendix is a summary of all the key meetings and discussions with key stakeholders during the preparation of the emerging Local plan, carried out between 2016 and 2020. These discussions related to the Local Plan timetable, regular updates and specific meetings relating to strategic policy matters and cross border issues. More recently there have been discussions and meetings relating to the preparation of specific draft Statements of Common Ground agreements with organisations.
Statements of Common Ground (SOCG) set out areas of agreement with key bodies and organisations in relation to the Local Plan, the wording of policies and site allocations. These provide a good indication of the ongoing contact and agreements made with Duty to Cooperate bodies during the Local Plan process and outlines any outstanding disagreements on key strategic issues or matters, where discussions and work may be ongoing.
Some agreements or SOCG are already in place in response to neighbouring authorities' Local Plans or strategy preparation and include:
North Derbyshire and Bassetlaw Strategic Housing Market Area (SHMA); Bassetlaw DC, Bolsover DC, NE Derbyshire DC, Chesterfield DC, May 2018 on the Housing Market Area
Draft Central Lincolnshire Planning Authority Statement of Common Ground, August 2020
Draft North Lincolnshire Local Statement of Common Ground, October 2020 (Revised Draft for Publication, N. Lincolnshire District Council)
Sheffield City Region, Statement of Common Ground, July 2020 with all authorities within Sheffield City Region
Sheffield City Region, NE Derbyshire DC, Bolsover DC, Chesterfield Borough Council, Derbyshire County Council and Highways England (October 2018) covering M1 J30 and Treble Bob Roundabout
Mansfield DC and Bassetlaw DC Statement of Common Ground, January 2020
Bassetlaw DC's draft Statements of Common Ground have been prepared with the above statements in mind; either referring to them or updating them to avoid duplication. They are live documents which are to be kept up to date during the Plan preparation period and will be signed prior to the plan's submission for examination.
In addition to the list of meetings in the Appendix, there has been communication of an informal nature during the plan period between the Council and neighbouring District Councils, County Councils and bodies in relation to the overall Local Plan, site-specific issues or specific policies. These communications have taken place through telephone calls, emails and more recently online meetings, due to COVID-19 and the restrictions that placed on physical meetings between the dates of March 2020 to November/ December 2020.
Key Strategic Issues
This document sets out the Strategic Issues likely to apply to the Local Plan and sets out how these matters have been discussed over the plan period through Partnership meetings and form the subject of the Statements of Common Ground for key bodies. The paragraph below sets out what the Strategic Issues are and the next section sets out the key studies undertaken with Cooperate Partners affected by these Strategic Issues (set out in a table 1).
Key 'Strategic Priorities' that remain the focus of the plan Spatial Strategy include:
Homes Needed
Employment Requirements
Provision of Infrastructure – Health and Education, transport and highways
Needs of Gypsy, Travellers and Showpeople
Flood Risk
Climate Change
Town Centre Regeneration
Strategic Sites and Garden Villages
The relevant strategic matters of the Local Plan include:
The appropriate Housing Market Area and distribution of housing
Strategic Economic Growth Site Selection
Identify the social infrastructure required to support proposed levels of growth – including health and education provision
Identify the transport infrastructure required to support the levels of growth; encourage modal shift
Protect heritage assets
Natural Environment
Green Infrastructure
Evidence Produced Through Joint Working
Bassetlaw Council has worked collaboratively across organisations and neighbouring authorities to produce a number of pieces of evidence to support the Local Plan on a range of strategic matters; these are ongoing and some are still to be updated as set out in Table 1.
Evidence Produced Through Joint Working

Strategic Matter/Cross Border Issue

Joint Study

Organisations

Status

 

Strategic Housing Needs

North Derbyshire and  Bassetlaw Strategic Housing Market Assessment, 2017

 

Nottinghamshire Supported Housing Strategy, Nottinghamshire County Council, 2019

North Derbyshire and Bassetlaw Strategic Housing Market Area: North    East

Derbyshire DC,

Bolsover DC, Chesterfield BC, Notts CC and Derbyshire CC

Nottinghamshire County Council

Existing SOCG              2018 to be updated.

Next meeting of HMA Jan/ Feb 2021.

 

Strategic Economic Growth Needs

Vision 2030: D2N2 Strategic Economic Plan, D2N2 LEP 2018

Sheffield City Region Trade and Investment Plan, Sheffield City Region 2019

Nottinghamshire Visitor Economy Strategy, Nottinghamshire CC, 2019

Bassetlaw DC, D2N2 and all authorities of Derby, Derbyshire, Nottingham and Nottinghamshire

All authorities in Sheffield City region

Authorities within Nottinghamshire County

Draft SOCG with D2N2

Transport and Infrastructure


Strategic road network
Local road network
Sustainable transport


Joint Transport Study: local highway network 2019

Nottinghamshire Local Transport Plan 2011-2026

Morton Garden
Village Station
Feasibility Study Technical Note 2,
2020
BDC Rail Feasibility Technical Note, 2019
Bassetlaw Transport Study, 2019 and 2020

 

Doncaster MBC and Bassetlaw DC
Nottinghamshire County Council

Network Rail

 

Transport work ongoing on allocated sites.

Draft SOCG with Network Rail discussed November 2020

Education Facilities

Meeting with Education during 2020 on school provision.

Nottinghamshire County Council
 

Flood Risk

Bassetlaw Strategic Flood Risk
Assessment (SFRA)

Humber River Basin Management Plan, DEFRA 2015

The Environment Agency

The Canal and River Trust

Lead Flood Authority

Discussions regarding policies, site allocations/ FRAs

Draft SOCG with Canal and River Trust underway

Climate Change

 

The Environment Agency

Natural England

 

Town Centre Regeneration

Worksop Town Centre Masterplan and workshops

Environment Agency

Severn Trent

Anglian Water

Nottinghamshire County Council

Ongoing

Bassetlaw Garden Village

Bassetlaw Garden Village Masterplan and workshops

Bassetlaw Garden Village Consultative Group (range of organisations)

Ongoing
Site Allocations
Various discussions with neighbouring authorities/ organisations
All authorities, The Environment Agency, Nottinghamshire CC, Natural England, Historic England
Ongoing

Natural Environment

Green and blue infrastructure
Biodiversity

Draft Nottinghamshire Biodiversity Opportunity Mapping- Bassetlaw, Idle Valley

 

 

 

Joint Study Recreational Impact Assessment on Clumber Park SSSI, Bilhaugh and Birklands SAC and Sherwood Forest NNR

Bassetlaw DC,

Newark and Sherwood DC,

Natural England,

Notts CC,

Local Nature Partnership

 

Bassetlaw DC,

National Trust,

RSPB,

Newark and Sherwood DC,

Nottinghamshire CC and other authorities.

Ongoing

 

 

 

 

Underway. 2020-2021

project.

Gypsy, Travellers and Show people

Gypsy and Traveller Accommodation Needs Assessment, 2019

Bassetlaw DC and neighbouring authorities

Work being updated to create Bassetlaw DC protocol.

Appendix
Authority/ organisation

Reason(s) for DTC

Date of meeting(s)

Bolsover District Council

Local Plan Timetable and update
Local Plan evidence base update
North Derbyshire and Bassetlaw Housing Market Area Joint Statement of Common Ground (2018)
North Derbyshire and Bassetlaw Housing Market Area Meeting

12/05/2016
09/12/2016
30/01/2017
1/08/2018

Doncaster Metropolitan Borough Council

Local Plan Timetable and update
Local Plan evidence base update
The wider impacts of future development at Harworth and Bircotes and Bawtry.
Joint Transport work on local highway impacts

14/12/2015
23/08/2016
31/03/2017

Mansfield District Council

Local Plan Timetable and update.
Local Plan evidence base update
The relationship between development in the Norton and Cuckney parish, including Welbeck Colliery, and service provision in Market Warsop

29/04/2016
07/04/2017
28/11/2019

 

North Lincolnshire District Council

Local Plan Timetable and update
Local Plan evidence base update
Significant new housing and employment developments in North Lincolnshire but little near the boundary with Bassetlaw.

 

West Lindsey District Council (Central Lincolnshire Joint Planning Authority)

Local Plan Timetable and update
Local Plan evidence base update
Neighbouring Authority – cross boundary issues on Transport

 

Newark and Sherwood District Council

Local Plan Timetable and update
Local Plan evidence base update
Neighbouring Authority – cross boundary issues on Transport, in particular the A1.
Joint working on Recreational Impact Assessment -Sherwood Forest NNR and Clumber Park SSSI

11/05/2016
04/08/2017
03/02/2018 

Nottinghamshire County Council

Local Plan Timetable and update
Local Plan evidence base update
Minerals Local Plan update
Transport Assessment and advice
Education information
Health Information
Flood data
Gypsy and Traveller Accommodation
Joint Working/Project on Recreational Impacts of Clumber Park and Sherwood Forest
North Derbyshire and Bassetlaw Housing Market Area Joint Statement of Common Ground (2018)
North Derbyshire and Bassetlaw Housing Market Area Meeting
Supported Accommodation

11/12/2017
05/06/2018
22/05/2019/29/06/2018
08/01/2020
25/06/2019/25/10/2019
19/12/2019
21/05/2019
01/08/2018
28/08/2019
17/10/2019

North East Derbyshire Council

Local Plan Timetable and update
Local Plan evidence base update
North Derbyshire and Bassetlaw Housing Market Area Joint Statement of Common Ground (2018)
North Derbyshire and Bassetlaw Housing Market Area Meeting

03/05/2018
01/08/2018
28/08/2019

Rotherham Metropolitan Borough Council

Local Plan Timetable and update
Local Plan evidence base update

Environment Agency

Local Plan Timetable and update
Flooding Risks
Water Quality
Water Management
Bassetlaw LP Strategic Flood Risk Assessment (SFRA)

18/12/2015
11/01/2016
24/10/2017
Liaison ongoing 2020/21

Network Rail

Local Plan Timetable and update
Draft Statement of Common Ground
Local Plan evidence base update
Rail Services and Franchises
Existing rail service provision
Robin Hood Line
Retford Train Station
Shireoaks Train Station
Future services investment

 

 

Natural England

Local Plan Timetable and update
Local Plan evidence base update
Consultation on RIA Joint Study for Clumber Park and Sherwood Forest

D2N2 (Derby, Derbyshire, Nottingham, Nottinghamshire)

Draft Statement of Common Ground with D2N2
Economy
Housing Need
Low Carbon

Sheffield City Region (SEP)

Local Plan Timetable and update
Local Plan evidence base update
Community Infrastructure Levy
Retail and Town Centre Regeneration
Infrastructure and Investment

01/07/2016
02/09/2016
04/03/2016
06/05/2016
08/01/2016
21/10/2016

Western Power Distribution

Overview of Bassetlaw Local Plan Strategy (Change of approach from current Plan)
Overview of Neighbourhood Planning in Bassetlaw
BDC Local Plan - Implications for the rural settlements
BDC Local Plan - New settlement
BDC Local Plan - Implications for the main towns (Worksop, Retford, Harworth & Bircotes)
Capacity of existing network
Vehicle electric charging points

Bassetlaw CCG

Overview of Bassetlaw Local Plan Strategy (Change of spatial approach from current Plan)
Overview of Neighbourhood Planning in Bassetlaw – implications for health services?
New settlement: New health service requirement
Opportunity to improve health services in rural area
CCG Strategic Estates Group
Implications for the main towns (Worksop, Retford, Harworth & Bircotes)
Partnership working moving forward

17/03/2017
08/10/2018
23/05/2018
07/09/2018
09/2020 Bimonthly meetings

Northern Powergrid

Impact of the proposed growth on the electricity network and any future capacity issues.
Bassetlaw New Settlements
Expansion of Worksop
Employment Sites
Electric Car Charging Points on new developments
The potential for renewable energy in new developments

11/07/2018
13/09/2018
16/03/2020

East Midlands Ambulance Service (EMAS)

 

Overview of Bassetlaw Local Plan Strategy (Change of approach from current Plan)
Overview of Neighbourhood Planning in Bassetlaw
BDC Local Plan - Implications for the rural settlements
BDC Local Plan - New settlement
BDC Local Plan - Implications for the main towns (Worksop, Retford, Harworth & Bircotes)

04/07/2018

Police Service

Overview of Bassetlaw Local Plan Strategy (Change of approach from current Plan)
Overview of Neighbourhood Planning in Bassetlaw
BDC Local Plan - Implications for the rural settlements
BDC Local Plan - New settlement
BDC Local Plan - Implications for the main towns (Worksop, Retford, Harworth & Bircotes)
Capacity of existing services/ability to respond to incidents

26/06/2018

Fire Service

 

Overview of Bassetlaw Local Plan Strategy (Change of approach from current Plan)
Overview of Neighbourhood Planning in Bassetlaw
BDC Local Plan - Implications for the rural settlements
BDC Local Plan - New settlement
BDC Local Plan - Implications for the main towns (Worksop, Retford, Harworth & Bircotes)
Capacity of existing services/ability to respond to incidents

26/06/2018

Anglian Water

National zonal charging scheme
BDC New Settlement
Local Plan proposed Strategy
Water Cycle Study
SUDS
Water Quality
Sewage Capacity

23/05/2018
05/07/2018
07/09/2018
22/08/2019

 

Severn Trent Water

National zonal charging scheme
BDC New Settlement
Local Plan proposed Strategy
Water Cycle Study
SUDS
Water Quality
Sewage Capacity

05/07/2018
03/09/2018
22/08/2019

River Idle Management Partnership

Worksop Town Centre Regeneration
Local Plan – potential redevelopment of sites close to waterways
Environmental information
Flood data and information

06/09/2016
26/01/2017
09/10/2017
09/04/2018
08/01/2018

Nottinghamshire Ecological and Geological Data Partnership

Local Plan Timetable and update
Local Plan evidence base update

Nottinghamshire Planning Officers Group

Local Plan Timetable and update
Local Plan evidence base update
Government guidance
Community Infrastructure Levy
Conversation

15/06/2016
08/03/2016
30/09/2016
07/04/2017
17/10/2019
20/11/2020

Bassetlaw Rural Conference (Parish and Town Council discussions)

Local Plan Timetable and update
Local Plan evidence base update

23/09/2016
17/01/2019
16/01/2020

Historic England

Local Plan Timetable and update
Local Plan evidence base update
Most recent heritage guidance an legislation
Draft Statement of Common Ground

Bassetlaw (internal) Bassetlaw ICP Estates Bassetlaw Strategic Estates Group

A1 Housing

Local Plan Timetable and update

30/04/2019
16/05/2019
10/09/2019
16/01/2020
10/02/2020

N Derbyshire and Bassetlaw

Housing Market Area

Local Plan Timetable and update

Homes England

Local Plan Timetable and update

Nottinghamshire Wildlife Trust

Local Plan update
Biodiversity off-setting

16/09/2019
28/01/2020
31/03/2020

Bassetlaw Garden Village

Consultative Group

Garden Village planning and visioning

Lincolnshire County Council

Archaeology and Heritage
1 Planning and Compulsory Purchase Act 2004, section 33A (3) and NPPF 2019 paragraph 24.
2 DCLG (February 2019) National Planning Policy Framework, paragraph 25
3 Planning and Compulsory Purchase Act 2001, section 33A(4)(a)
October 2020
---
Last Updated on Wednesday, March 22, 2023