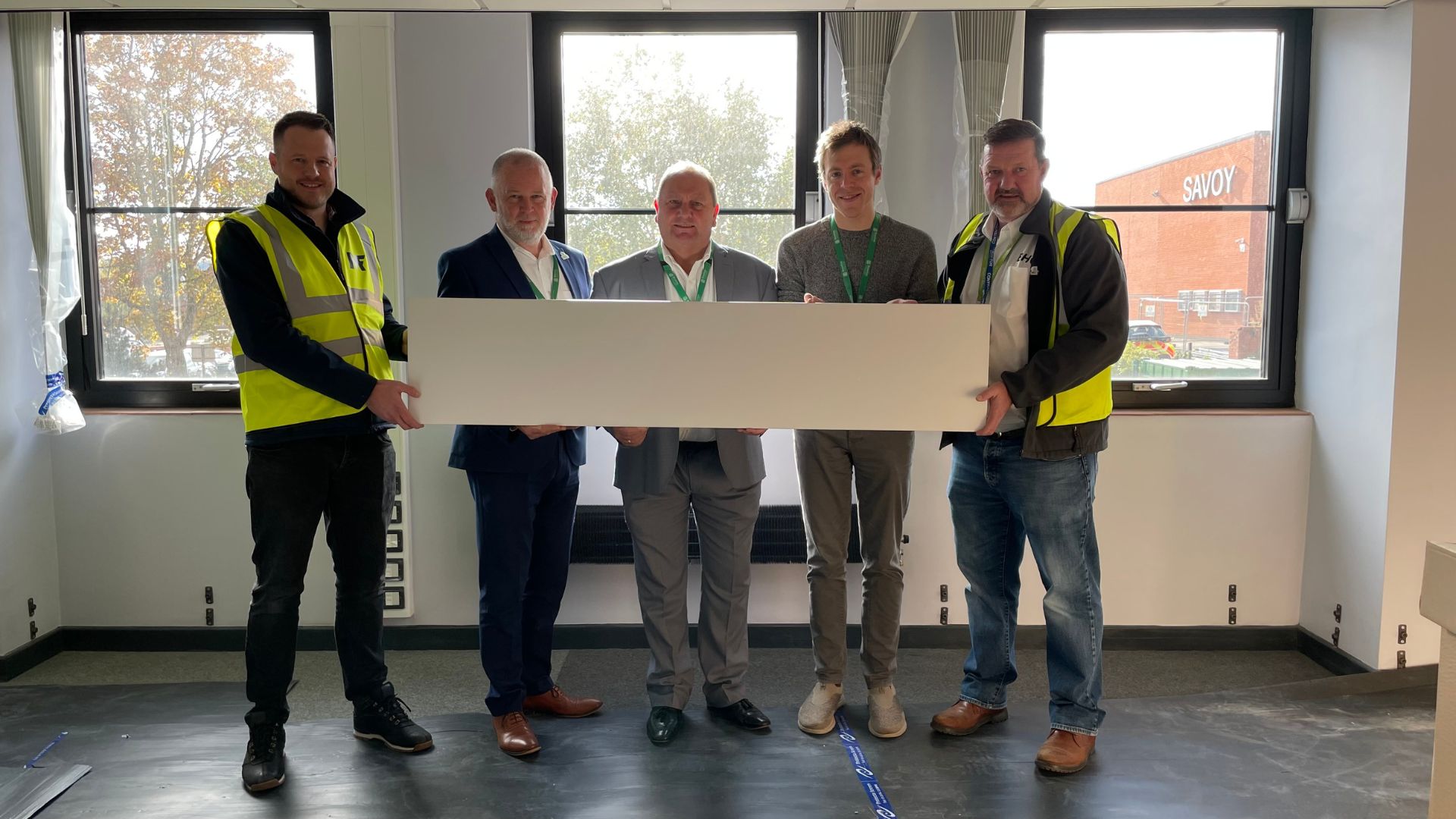 Photo (Left to Right): Matt Butler, Director, Miller Freeman, David Armiger Chief Executive Bassetlaw District Council, David Rose, Facilities Manager, Bassetlaw District Council, Cllr James Naish, Leader Bassetlaw District Council, Shane Metcalfe, Project Manager, Miller Freeman


Bassetlaw District Council is cutting its carbon footprint and reducing its reliance on fossil fuels thanks to a Government grant to fully decarbonise Queen's Buildings, which contains the Council's Head Office, Worksop Job Centre and Worksop Police Station.

The funding has been made available by the Department for Business, Energy and Industrial Strategy (BEIS) through the Government's Public Sector Decarbonisation Scheme, delivered by Salix Finance.

It supports the aim of reducing emissions from public sector buildings by 75%, compared to 2017 levels, by 2037.

The decarbonisation project is part of the Council's wider programme of green energy initiatives that include reducing carbon emissions by more than 70% from Kilton Forest Clubhouse; facilitating district-wide private housing energy retrofits, saving residents money on their bills and reducing their carbon footprint; procuring new electric street sweepers; and playing a key role in the successful bid to bring the first fusion energy plant to the West Burton Power Station site.

At Queen's Buildings, the existing gas heating system will be replaced with air source heat pumps and solar panels will be installed to provide a source of renewable energy. The energy efficiency of the building will also be improved through the installation of double-glazed windows, LED lighting, floor and loft insulation and an upgrade to the building management system. As the building's heating system is end of life and needs replacing, this grant will mean that there is no extra burden for local ratepayers.

The works are projected to cut the emissions of tonnes of Carbon Dioxide equivalent (tCO2eq) at Queen's Buildings from 238.8497 a year to 83.98422 a year, a reduction of 65%.

Cllr James Naish, Leader of Bassetlaw District Council said:

"This is the second significant decarbonisation grant the Council has secured and it will help the Council and its partners at Queen's Buildings to reduce the carbon footprint and reliance on fossil fuels, which is especially important in the current climate. Queen's Buildings opened in 1981 and is our highest energy consuming property. This funding, which is specifically targeted at public sector buildings, will allow us to fully decarbonise and reduce emissions from the building by two thirds. The scheme will also ultimately save money by ensuring that public buildings are cheaper to heat."

Programme Co-Ordinator Natalie Hobbs from Salix Finance said:
"Salix are delighted to work with Bassetlaw District Council on this exciting project.

"The council's plans to decarbonise their Queen's Buildings will be pivotal to their climate action pathway by focussing on the main and highest energy consuming asset.

"This decarbonisation project will play a huge role in improving the energy efficiency of the building and reducing heating demands. Over the next year Salix are looking forward to supporting the council on this journey."

The Government's Public Sector Decarbonisation Scheme means that offices, hospitals, schools, libraries, museums and leisure centres across England are among hundreds of public buildings that will cut their use of polluting and expensive fossil fuels and save millions of pounds on bills, thanks to government funding for affordable, low carbon heating and energy efficiency upgrades.

These upgraded heating systems - powered by cleaner, cheaper, renewable energy - will reduce the use of fossil fuels exposed to volatile global energy prices, support thousands of jobs, and also save taxpayers' money as these measures will ensure public buildings are cheaper to heat.
---
Last Updated on Friday, November 11, 2022