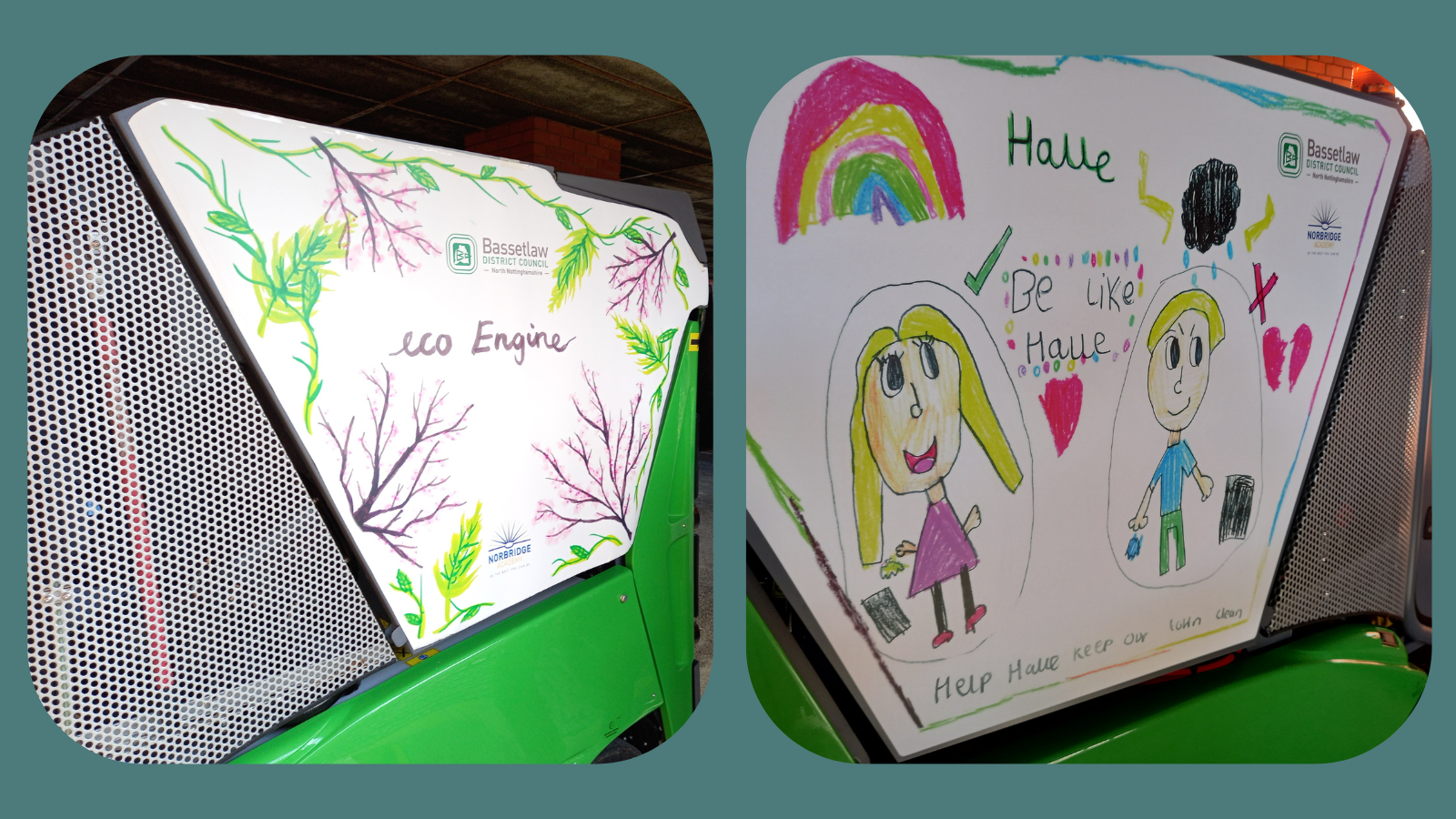 Pupils from Norbridge Academy in Worksop have given their seal of approval to Bassetlaw District Council's new electric street sweeper, designing artwork for the side panels and coming up with a name for the battery powered vehicle.
Following a demonstration of the new machine in the school playground and a question and answer session with Cabinet Member for Neighbourhoods, Cllr Julie Leigh on littering and the environment, pupils came up with a variety of designs and suggestions for a new name.
'Roxy Clean Queen Machine' was the name chosen by Freya Williams and the new sweeper features a vibrant anti-littering design on the side panel by Halle Townsend.

The other side panel is adorned with a design that references the sweepers green credentials and was drawn by Natsumi Pearson.
'Roxy Clean Queen Machine' is a fully electric street sweeper that will be used to clean in and around our town centres and is expected to sweep up around 52 tonnes of litter a year. The machine will save around 14,000 kg of C02 per year and around £7,000 a year in fuel costs.  The machine is also 91% recyclable so when it comes to the end of its life the majority can be recycled.
Cllr Julie Leigh, Cabinet Member for Neighbourhoods at Bassetlaw District Council said:
"We are really grateful to the Norbridge Academy pupils, both for their fantastic design skills and their excellent questions on littering and the environment. It is clear that the pupils are all very engaged with all things eco and the environment. As well as being our greenest street sweeper yet, Roxy Clean Queen Machine will also make a real difference to the cleanliness of our town centres."
George Huthart, Head Teacher at Norbridge Academy, said: "Our children enjoyed seeing the sweeper in action and it is wonderful to see them getting excited about looking after the environment. They produced some excellent designs and I am sure the children will be excited to see the road sweeper out around Worksop."
---
Last Updated on Tuesday, March 21, 2023