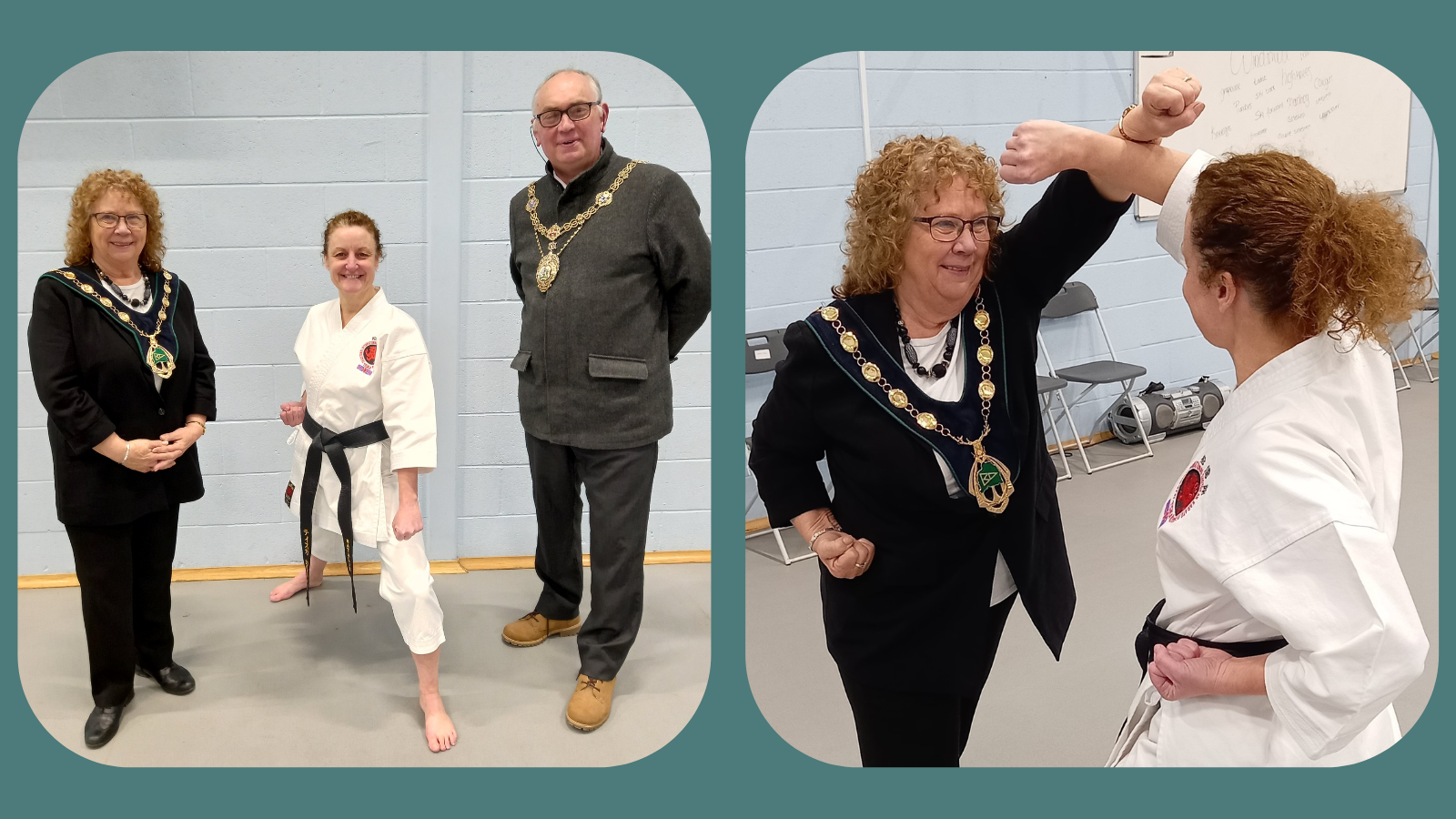 Bassetlaw District Council Chair, Cllr Madelaine Richardson and Worksop Charter Mayor, Cllr Neil Sanders have welcomed a new Karate club to Worksop, meeting students and instructors at a training session.
The 'Worksop Shotokan Karate Club' was opened on 7th February 2023 by Sensei Natalie Jordan and trains every Tuesday evening from 6:15pm at Outwood Academy Portland. Affiliated to TISKA, the Traditional International Shotokan Karate Association, the club offers tuition and training in traditional Shotokan Karate.
Sensei Jordan has been dedicated to traditional style Shotokan Karate for over 14 years training, teaching, and assisting six times a week under Sensei Tyers at the 3 Counties Shotokan Karate Club.  She also travels once a month to train in Leicester under the founder and chief instructor of TISKA; Shihan Sahota.  The club offers high quality patient instruction and enjoyable lessons for students from four years and older. 
Councillor Madelaine Richardson, Chair of Bassetlaw District Council said:
"I am delighted to welcome Worksop Shotokan Karate Club to Bassetlaw and wish them every success for the future. Having a sports coaching background myself, I recognise the positive physical and mental health benefits participating in these types of activities can have. It was great to meet Sensei Jordan and some of the students and learn more about traditional karate."

Sensei Natalie Jordan said: "I'd like to thank the Chairman of the Council and the Worksop Charter Mayor for their visit and the opportunity to teach them more about our traditional martial art. Worksop Shotokan Karate club is a club where whole families can train together and focus on developing confidence, self-defence, discipline and fitness."
---
Last Updated on Tuesday, March 21, 2023