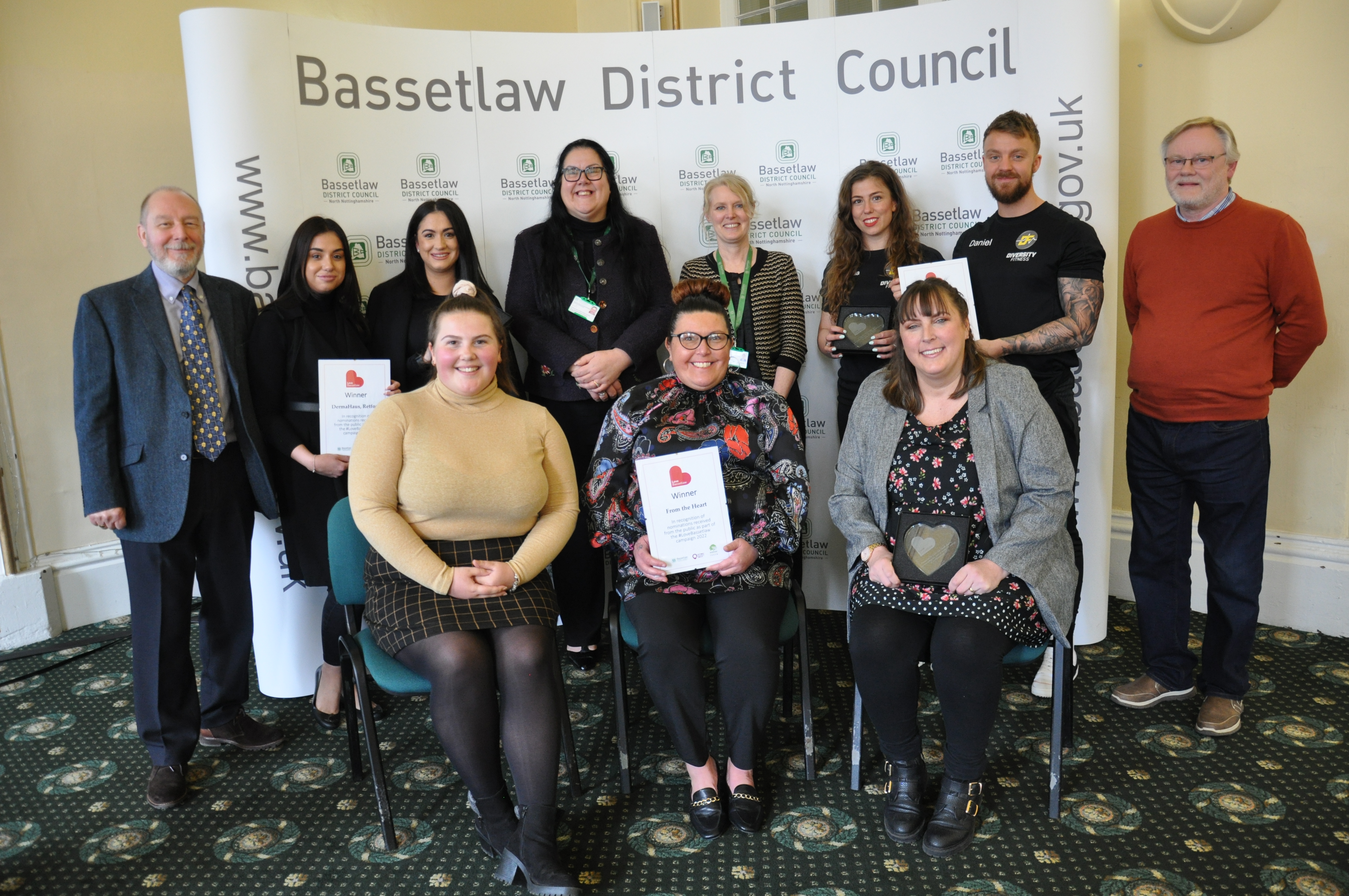 A trio of Bassetlaw businesses and charities have been recognised for the outstanding service they provide to their customers and how they have helped to change lives in our district.
Throughout the month of February, the 'Love Bassetlaw' campaign asked Bassetlaw people and businesses to 'spread the love' by shopping local, supporting the high street and telling everyone why some of their favourite independent businesses and organisations are so amazing.
Inspired by Valentine's Day, the campaign was a great success and gave local businesses across the district a platform share their stories, services and offers across social media. Love Bassetlaw also asked customers to share their experiences of why a business or organisation had won their heart.
Of the 66 businesses and organisations that were submitted, the three that received the most nominations were presented with unique heart-shaped awards at a ceremony this week. The winners were:
Worksop – Diversity Gym
Retford – DermaHaus Salon
Overall Bassetlaw Winner - From the Heart Charity, based in Worksop.
Love Bassetlaw was delivered by Bassetlaw District Council, in partnership with Retford and Worksop Business Forums, and funded through the Government's Welcome Back Fund.
Cllr Jo White, Cabinet Member for Regeneration at Bassetlaw District Council, said: "We have some amazing local businesses across the district that deserve our support and recognition, especially in light of the difficult conditions they've endured over the last couple of years, whether that's been in terms of trading or fund raising.
"The Love Bassetlaw campaign was a simple and effective way of showing our support and encouraging people to support their local independent businesses and organisations by sharing positive messages and, of course, shopping local. I'd like to thank all of the businesses who were part of Love Bassetlaw and the Bassetlaw public for their contributions."
Members of the public who nominated the winning businesses and organisations were also recognised for the content of their submissions. Here's what they had to say about their favourite business.
Overall Bassetlaw Winner - From the Heart Charity was nominated by Anna, who said:
"I recently came into a situation where I had to emergency Foster Care my friend's little girl, which has continued to this day. My life was flipped upside down and she came to me with nothing but the clothes on her back.
"This charity, without me having to even ask, heard about my situation and within a day I had clothes and toys. They then organised her school uniform not long after and then again sent me Christmas gifts for her. Not once did I have to ask for the help. It warmed my heart, and they were amazing."
Worksop Winner - Diversity Fitness, was nominated by Lois, who said:  
"Diversity fitness welcomes everyone from the community and provides the complete package to increase fitness. But it's more than just a regular gym. They are so friendly and welcoming and have a range of classes with varying difficulty levels to suit all. The trainers put on free sessions to improve fitness and confidence, both inside and outside of the gym, and they encourage everyone to be their best.
"They host regular events to raise money for charities, enter fitness events around the country to give all members, no matter their fitness level, the chance to show off their skills and encourage a team and community spirit.
"They also do free boxing classes which have helped many female members feel more confident and safe."
Retford Winner – DermaHaus Salon, was nominated by Phoebe, who said:
"They are the most welcoming business I've ever witnessed in my life. As soon as you walk through the door, the ladies are so friendly and warming - they're super-fast to offer you a cuppa and are so lovely to chat to.
"I recently started going to DermaHaus for eyebrow treatments and I honestly wouldn't go anywhere else. I struggle with social anxiety so I can be really timid with people I don't know, but everyone at DermaHaus has been so lovely and it's been so easy for me!
"Sam is an incredible brow artist and an incredible businesswoman, she has definitely made a lasting impression."
Each organisation received an engraved glass heart from local supplier Firbeck Trophies in recognition of their nominations, whilst the nominators each received a chocolate bouquet box from The Chocolate Kitchen at Retford, therefore supporting other independent businesses within the district.
---
Last Updated on Monday, April 11, 2022