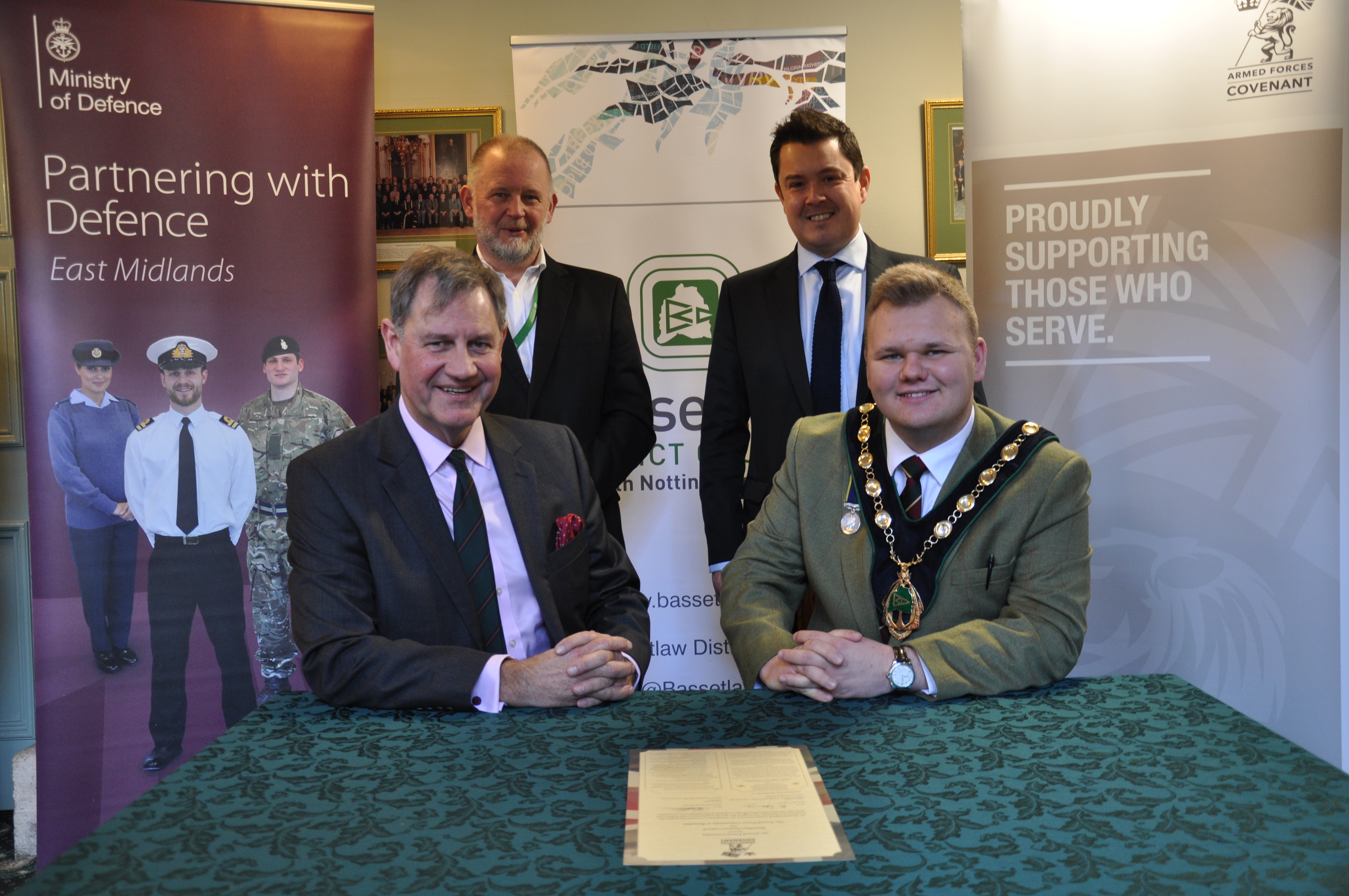 Bassetlaw District Council has reaffirmed its support for our armed forces by re-signing the Armed Forces Covenant.
The Armed Forces Covenant is a promise by the nation to ensure that those who serve or who have served in the armed forces, and their families, are treated fairly.
The re-signing of this Covenant maintains the Council's leadership role in supporting the Armed Forces community, including Reservists, Veterans and Cadet Force Adult Volunteers, across the district.
Cllr Simon Greaves, Leader of Bassetlaw District Council, said: "In an increasingly complex and challenging world, we rely on our armed forces to protect us against a wide range of threats. Local men and women are at the heart of this. Our Armed Forces Covenant endorses our good relationship with the armed forces and clearly demonstrates our support for current and former service personnel."
The Council first signed the Community Covenant – the predecessor to the Armed Forces Covenant – in 2013 and was also one of the first employers in the country to attain an Employer Recognition Scheme Silver Award from the Ministry of Defence. There are just over 1,200 employers nationally who currently hold the silver award.
Bruce Spencer the Regional Employer Engagement Director RFCA said: "The re-signing of this Armed Forces Covenant clearly indicates Bassetlaw District Council's ongoing commitment to support its local armed forces community. It's excellent news for current and former armed forces personnel. The armed forces have always enjoyed a close working relationship with our local community and this is evidence of its enduring support. There is a real strength in the local armed forces community and the council are showing significant leadership."
As part of the Covenant, the Council assists all members of the Armed Forces Community, past and present in many ways, including though the support of a dedicated Armed Forces Champion.
Cllr Tony Eaton Bassetlaw District Council's Armed Forces Champion, said: "Our Council works with as many organisations as possible to improve the lives of ex-service personnel in Bassetlaw. Coming from a military background myself I'm delighted that our Council has reaffirmed its commitment to our armed forces community by resigning this Covenant."
Find out more about the Armed Forces Covenant. You can also learn more about the support that Bassetlaw District Council provides to the Armed Forces on our website.
---
Last Updated on Monday, April 11, 2022