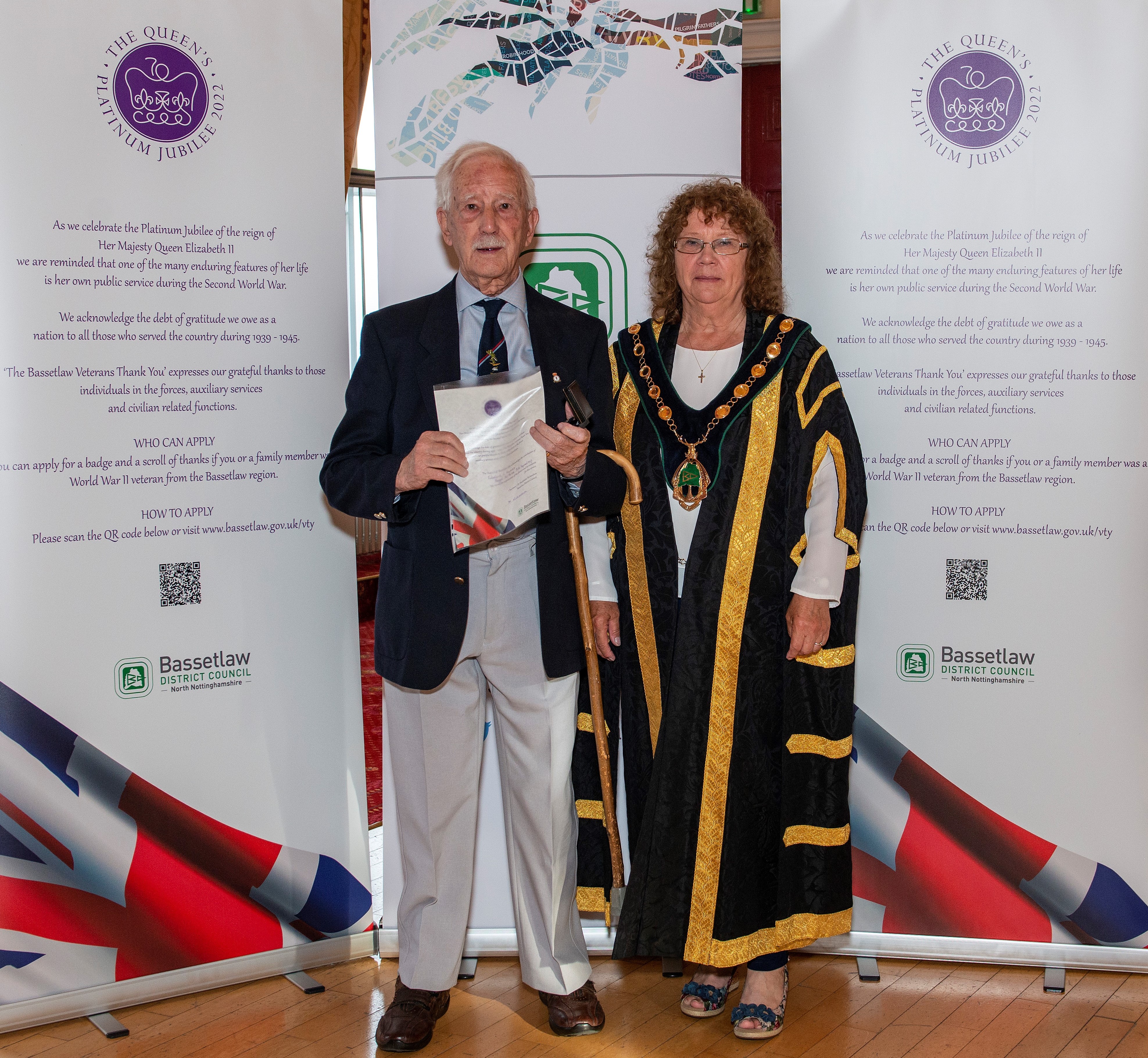 (Pictured above: Edward (Eddie) Humes and Chair of the Council, Cllr Madelaine Richardson)

Bassetlaw District Council has launched a 1939 – 1945 Veterans Thank You Scheme, as part of its activities to mark the Queen's Platinum Jubilee. The launch took place at a special meeting of Full Council on Thursday 16th June at Retford Town Hall.
At the age of 19, Queen Elizabeth the II (then Princess Elizabeth) became the first female member of the Royal Family to join the military. As a member of the Women's Auxiliary Territorial Service during WWII, Her Majesty learnt to drive and to maintain vehicles. Since then, the Queen has maintained a close relationship with the Armed Forces and holds many military appointments and honorary ranks.
The Bassetlaw Veterans Thank You builds on these links and acknowledges the debt of gratitude we owe as a nation to those individuals in the forces, auxiliary services and civilian related functions
Applications for a badge and a scroll of thanks can be made if an individual or a family member was a World War II veteran from the Bassetlaw region. Veterans' service includes military, auxiliary, WAAF, ARP, Bevin Boy, and Land Army duty, as well as many other important services.
Applications to the scheme can be made by filling in our online form or by writing to the Chairman's Officer at Queen's Buildings in Worksop.
Amongst those receiving the award at Retford Town Hall were Edward (Eddie) Humes, the sole survivor when his Lancaster bomber was shot down in 1944 over Belgium and Robert Illet, who collected the award in commemoration of  his father Frank Ilett, who served in the Royal Air Force during the war.
Councillor Madelaine Richardson, Chair of Bassetlaw District Council said:
"The Veterans Thank You Scheme is part of our activities to mark the Queen's Platinum Jubilee in Bassetlaw and builds on her long standing connect with the Armed Forces which began during WWII. It was a great honour and privilege to make the first presentations at Council and to meet WWII Veterans and their families."

I am looking forward to visiting a number of Bassetlaw Veterans in the next couple of weeks to make further presentations and thank recipients on behalf of the District. Family members can also apply to the scheme on behalf of relatives who served during the war so we can further recognise their service and contribution."
---
Last Updated on Wednesday, July 6, 2022