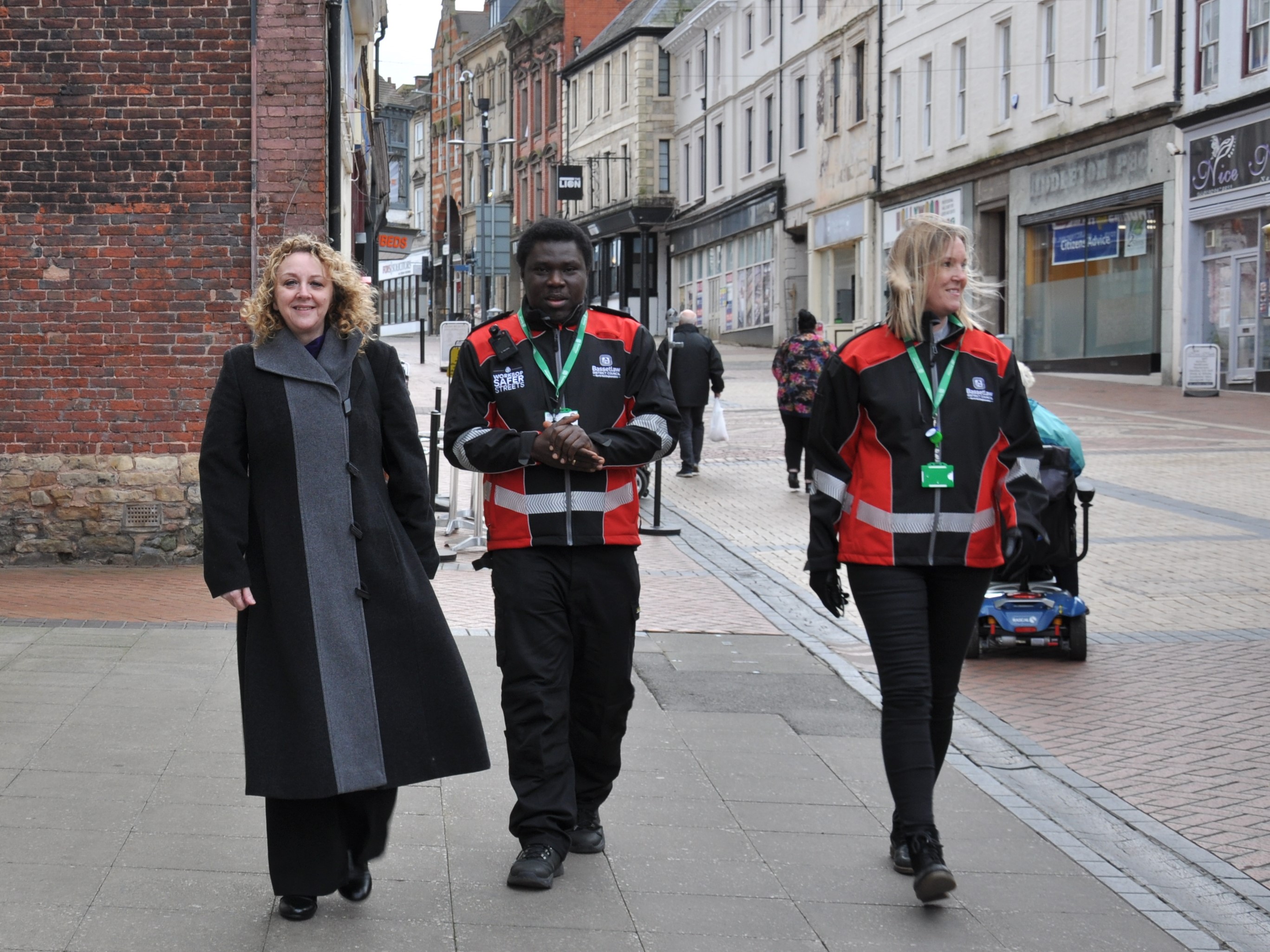 A new team of Wardens are helping to make Worksop's streets safer by tackling all forms of anti-social behaviour in the town centre.
Thanks to a joint initiative between Bassetlaw District Council and the Nottinghamshire Police and Crime Commissioner, four Safer Streets Wardens are now carrying out regular patrols in order to increase the feeling of safety for people who visit Worksop Town Centre, and its surrounding areas.
It is hoped this high visibility approach will boost the confidence of local businesses by acting as a deterrent to those who commit criminal acts and who commit anti-social behaviour in the town centre.
In addition, Wardens will engage with residents, businesses and visitors on community safety and crime prevention; and work closely with the Police, the Council's ASB Team, ShopWatch and PubWatch.
Cllr Julie Leigh, Cabinet Member for Neighbourhoods at Bassetlaw District Council, said: "We have listened to people who visit our town centres, and local businesses, and are now pro-actively tackling anti-social behaviour and the individuals who are giving our town a bad name.
"We want to welcome people to Worksop Town Centre and for them to feel safe while they are here. We also want to support local businesses and hope that the introduction of our Safer Streets Wardens will boost the confidence of visitors and bring more people into the town centre.
"Safer Streets Funding has been instrumental in supporting our plans to improve the town centre, improve safety and reduce anti-social behaviour."
This new initiative has been introduced after the Office of the Police and Crime Commissioner for Nottinghamshire secured £3 million of Safer Streets funding from the Home Office in July for projects across the county that will help tackle neighbourhood crime and anti-social behaviour, as well as violence against women and girls.
Worksop is benefitting from a share of £750,000 of this latest round of money, which will also pay for better street lighting in areas including the Canch park and training for staff in licensed premises to help tackle violence against women and girls.
A previous round of Safer Streets funding also paid for Refuge Point safety cameras to be installed in the town centre, giving people in distress a direct communication with the CCTV control room at the touch of a button.
Caroline Henry, Police and Crime Commissioner for Nottinghamshire, who met two of the wardens during a Walkabout Wednesday public engagement in Worksop last month, said: "These Safer Streets Wardens are providing a real visible presence and will focus on areas where they will have a big impact on improving people's feelings of safety.
"This gives Worksop an additional resource, boosting the existing work of Nottinghamshire Police officers and Bassetlaw District Council's Anti-Social Behaviour Team, providing extra eyes and ears on the streets to ensure people feel safe and supported."
The Safer Streets Wardens are currently operating in Worksop Town Centre, in addition to a number of surrounding areas including The Canch, dealing with anti-social behaviour and criminal activity, and reporting incidents and disturbances to the Council's ASB Team and the Police.
They also enforce the Public Spaces Protection Order (PSPO) for the town centre, tackle street begging, deal with aggressive behaviour and alcohol and substance misuse. Their powers extend from engaging with the local community and issuing advice to individuals and groups, to issuing Fixed Penalty Notices (FPNs) and providing evidence to the ASB Team or Police in the case of more serious criminal activity.
The team will also be part of a joint effort to reduce homelessness and rough sleeping, in addition to signposting people to local partner agencies who offer further support and guidance.
---
Last Updated on Tuesday, February 21, 2023