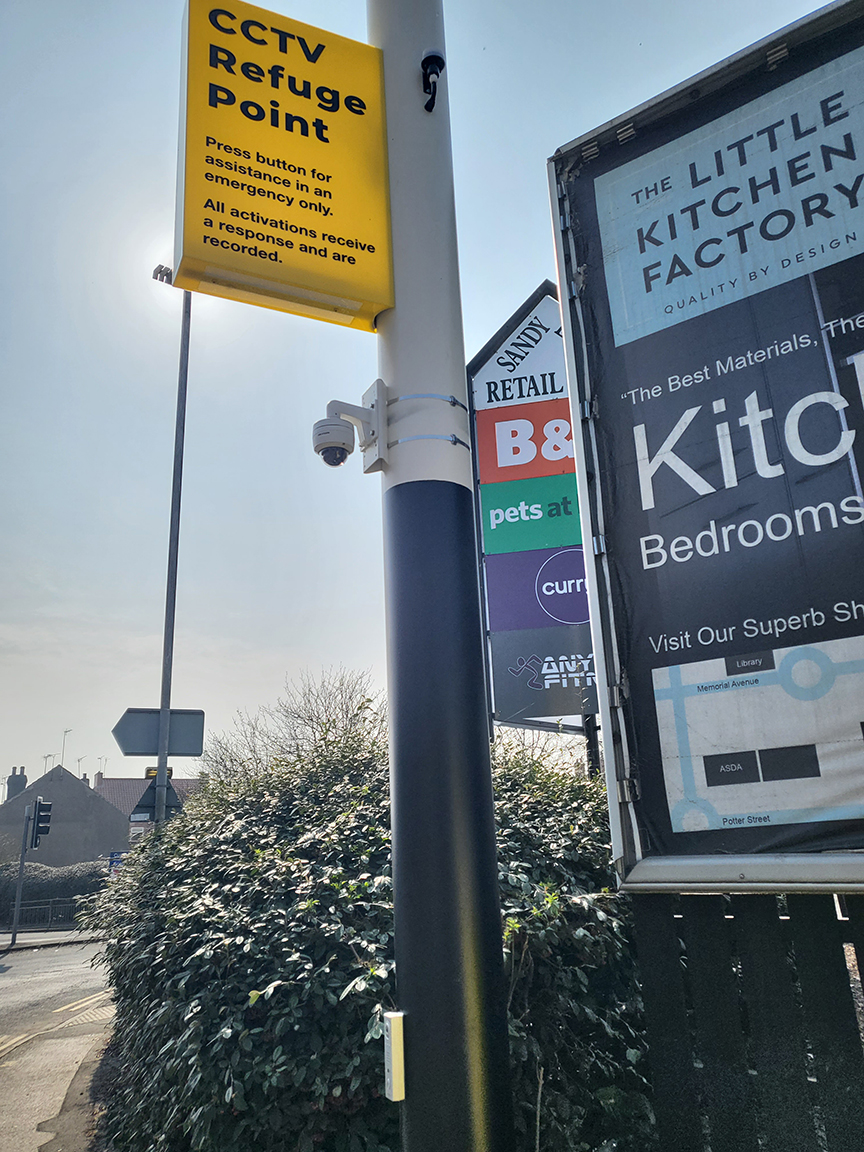 A network of pioneering CCTV Refuge Points has been set up across the town whereby members of the public, especially women and girls, can instantly alert CCTV Control Room staff when they feel threatened or at risk; calls can then be relayed to the Police Control Room if the caller is deemed to be at risk.
Nottinghamshire Police and Crime Commissioner, Caroline Henry, has been leading efforts to develop five Safe Refuge Points across the town in conjunction with safety officers from Bassetlaw District Council and CCTV firm SSC Specialist Security Ltd.
CCTV Refuge Points provide 24-7 surveillance of an area like standard CCTV but have the additional advantage of offering users a 'panic button' feature whereby they can automatically alert Police to a live incident.
Upon activation, operators will be able to risk assess the scene via a PTZ (Pan, Tilt and Zoom) camera to secure evidence, determine what help is need, dispatch the appropriate police response and provide reassurance to the caller via two-way audio.
The technology, which has been developed over the past six months, has been fitted to poles painted white to make them more conspicuous to members of the public requiring help and are now fully operational.
It has been funded as part of a multiagency effort to make women and girls safer and reduce their risk of crime and violence through the Home Office's Safer Streets 3 project.
Cllr Julie Leigh, Cabinet Member for Neighbourhoods at Bassetlaw District Council, said: "The Safer Streets project is ground-breaking in its approach and aims to improve the safety of people in and around Worksop town centre, primarily among women and girls.
"We are proud to be part of this initiative and the ways that we are using the latest technology to give women and girls greater confidence on our streets.
"For many women and girls, making the most routine journeys for work, socialising or exercise can sometimes be a challenging and uncertain experience. We hope that these refuge cameras give everyone more confidence on our streets and also act as a deterrent to crime and anti-social behaviour."
Commissioner Henry said: "Nottinghamshire is at the forefront of efforts to improve safety and increase confidence in our public spaces, especially among women and girls.
"We are proud to be the first force in the country to utilise this innovative technology and want women to know how serious we are about reducing their risk of harm.
"These refuge points open the door to a new mode of support for anyone who finds themselves in a vulnerable or threatening situation. We will be carefully evaluating these resources over the coming months in a continued effort to improve the response to local people.
"I would like to thank our partners at Bassetlaw District Council for driving these improvements forward against a challenging timescale and helping to make Worksop a safer place for all."
Safer Refuge Points will be available in the following locations in Worksop:
Newcastle Ave/Stubbing Lane area
Opposite McDonalds High Hoe/Bracebridge/Retford Road junction
Babbage way/B&Q
Carlton Rd/Collage/Blyth Rd Gatehouse/Priory Gardens/Cheapside
They have been designed to be Covid-friendly and are motion-activated enabling users to simply wave in front of a screen to contact Police.
Each Refuge Point has three cameras - one inside the help point itself, a fixed CCTV camera 2.5m from the ground that automatically records on approach and provides an overview of the street and surrounding area and a further PTZ that will record and monitor the incident once activated and provides a further light source.
There is also a two-way audio function enabling users to speak directly to control room staff. If for any reason communication is lost or cut off by a potential attacker, operators can dial back to the refuge point.
Each refuge point has a sign illuminated with LED lights which uses photocell technology to automatically turn on when it becomes dark, reducing the need for timers.
Chris Catchpole, Director of SSC Specialist Security Ltd who has more than 25 years' experience in surveillance camera design, said: "We are really proud to work with Bassetlaw District Council and the Police and Crime Commissioner to bring this innovative scheme to Worksop.
"Essentially, we have amalgamated a range of technologies to create a one-off design for this project which gives women or girls another way of reaching out for help when they feel vulnerable or under immediate threat. These cameras have the potential of changing the way we protect our communities in the future and so we are anticipating significant interest as a result of this project."
---
Last Updated on Tuesday, May 24, 2022