Barnum the musical - frpm 9th to 11th May 2019
The Musical story of the world's Greatest Showman - P.T.Barnum.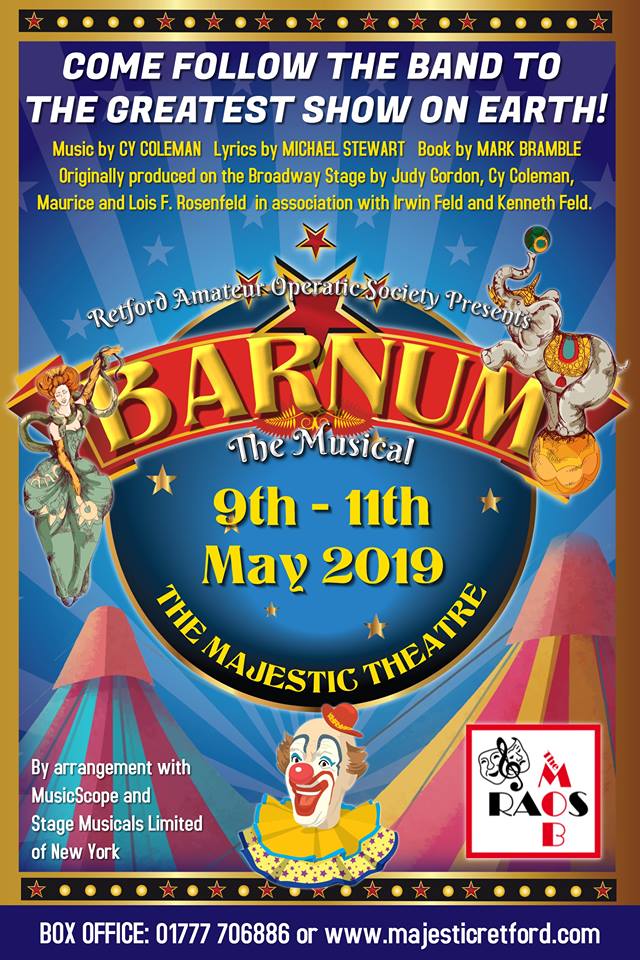 Description
"Barnum's the name –P.T. Barnum. I want to tell you that tonight you are going to see – bar none – every sight, wonder and miracle that name stands for!"
Tracing the career of America's greatest showman from 1835 to the year he joined James A Bailey to form the greatest show on earth, Barnum tells the story of Phineas Taylor Barnum, defender of 'the noble art of humbug'.
Driven by a philosophy and an ambition to make a fortune, he creates the Museum of Curiosities, full of weird and wonderful side shows. P. T. Barnum, the Greatest Showman on Earth, combines razzle-dazzle with charm to sell his humbug to cheering crowds – introducing to the adoring masses, Joice Heth, the world's oldest woman, General Tom Thumb, the smallest man in the world and the Swedish Nightingale, Jenny Lind.
A joyful and moving musical portrait of the nineteenth century' greatest show-biz legend, Barnum is a colourful and dynamic spectacle full of heart and passion.
Cy Coleman's and Michael Stewart's rousing score includes, 'There's a Sucker Born Every Minute', 'Join the Circus', Bigger isn't Better', 'Colours of My Life' and 'Come Follow the Band'.
Venue
Majestic Theatre, Retford. Coronation Street, DN22 6DX
Address
Majestic Theatre, Coronation St, Retford DN22 6DX