Contents
Foreword
If we care about future generations, then it is important to think about the world they will live in. It is therefore necessary to understand the issue of sustainability and how decisions we take now will affect our world.
The Bassetlaw District Council Sustainability Strategy provides a framework for good practice that is applicable to every service, and every decision made must consider the sustainability impact, be it carbon emissions, household or trade waste, or the natural environment.
This strategy gives a clear warning: we must all become more aware, more knowledgeable and more active in implementing this strategy.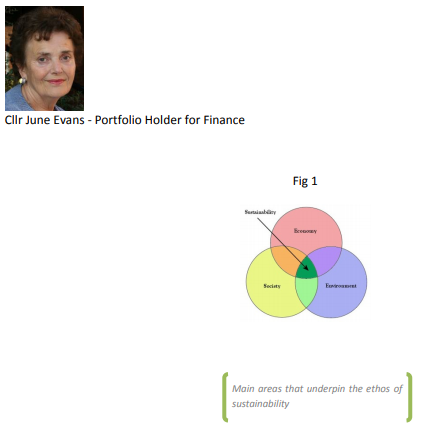 Introduction
The Sustainability Strategy provides a framework for setting out the councils approach towards sustainability. It summarises the Councils work to influence social, economic, environmental and resource management issues, describes programs already in place and sets targets and future actions to be undertaken to embed sustainability into corporate activities and the wider community. The strategy builds upon the work already identified in the Carbon Management Plan and the Climate Change Strategy and complements and informs other Council strategies.
The strategy addresses the need to work with the Councils partners to reduce its impact on the environment and to progress delivery through the Councils partnerships.
What is sustainability?
There are a number of interpretations on the term, sustainability. It can encompass so many issues, situations and choices. However there are key issues that underpin it:
The future needs of generations to come will be effected by the choices and actions by people today
Sustainable development encourages wealth, opportunities and responsibilities to be shared equally on a global scale and to consider those that are at a disadvantage economically.
Economic, social and environmental issues are all interlinked and sustainability aims to tackle them in a way that achieves long lasting solutions.
To respect the environmental limits of the world in which we live.
'Development that meets the needs of current generations without compromising the ability of future generations to meet their needs and aspirations.' (WCED, 1987)
This definition arose out of the United Nations-sponsored World Commission on Environment and Development (WCED).
Consumption of our natural resources is at the level that they cannot be replenished for us to be reliant upon them in the future. For example the way land and resources are used are impacting on natural ecosystems and diversity in such a way that in some cases the impact cannot be reversed.
As an organisation and as an individual the decisions we make, no matter how small, impact on the issue of compromising future generations. What sort of energy we use, managing waste disposal and the type of travel we chose is something everyone has a choice in.
In short, sustainability is about using common sense and respecting the resources we so often take for granted, can we afford to put a price on our planet?
In 2012, the European Commission reviewed its action plan for Sustainable Consumption and Production and Sustainable Industrial Policy (SCP / SIP Action Plan) published in 2008. Issues related to sustainable consumption and consumer behaviour are a major aspect of this review and as such in 2011 the Commission launched the study, "Policies to promote sustainable consumption." The study identified the main policy instruments currently in use but also new approaches, and provides recommendations for changing consumer behaviour. The main issue is that complex environmental challenges (climate change, depletion of natural resources etc) are linked to major drivers such as increased wealth and consumption patterns. Behavioural incentives that are used to encourage consumers to change their choices and behaviour patterns are not sufficient in themselves to achieve sustainable consumption across the board. It is seen as a reversal of progress and involves too much sacrifice of what people see as needs and desires.
Principles of Sustainability
The word sustainable is often attached to human centred activities such as agriculture, natural resource management, health care provision, urban centres, etc. These are all elements of sustainable development and are based on the same underlying principle of not compromising the future. The main principles are outlined below in the diagram below.
In theory sustainability is probably something that we would all aspire to. In practice it is far more difficult. The barrier is that bringing about sustainability would depend on creating a rational society, where the desire for riches and gain are replaced by the want and need to maintain a habitable world for future generations. There would be the understanding that extravagant benefits from new technologies are not worth the impact or risk of irreversible environmental impact.
However, what we as a Council can do is lead by example and face the challenge of sustainability as best we can and within the scope of our own limits.
Context
In the last decade sustainability has become a necessary consideration for local authorities, the need to protect the environment and make practical and efficient choices are a priority.
Bassetlaw first produced a Climate Change document in 2008 that incorporated sustainability. It contained an action plan and targets monitored by the Sustainability Group, which was a cross directorate group made up of key service managers. Since then much has been achieved but as with all things, they also need to evolve. While these initiatives have made progress, there is a need to set out the approach the Council is taking towards sustainability and the outcomes that are expected to be achieved. A Sustainability Working Group will be the future driver of sustainability and carbon reduction issues, providing quarterly updates on the progress of projects and strategy. It will be made up of those who work in the frontline of council services and see firsthand the impact council decisions have on the environment, economy and social wellbeing of the public.
Bassetlaw District Council has successfully completed the Department of Energy and Climate Change Greenhouse Gas Report for several years now. This provides a baseline that can define targets and objectives. A reduction of 15% in co2 emission levels have been achieved since 2007 in some areas, and as such a reduction in spending. In particular utility and transport have achieved good levels of improvement. Details of these initiatives can be found in the Carbon Management Plan in the near future.
Below is a diagram that shows how the new Sustainability Working Group fits in with other corporate strategies and priorities with the Council.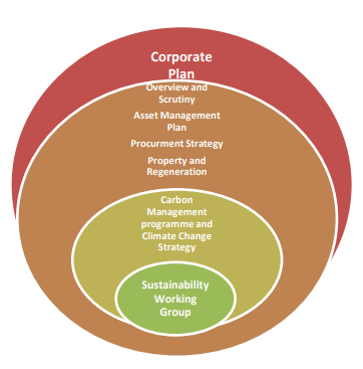 Delivering Sustainable Change
The strategy looks ahead to how the Council can improve on what has been done and to give focus on how the Council can lead by example and ensure it is acting as sustainably as it can. This is being implemented by targeting six key areas with associated objectives.
The six areas which will further improve the councils approach to a more sustainable future are:
Buildings and estates and activities within the councils own operations - making effective use of resources and ensuring the built environment is developed and managed sustainably, particularly in construction practices for the Council's own projects.
Promote sustainable travel, reduce mileage associated with council estates and services by reorganising routes and car share.
Enhance the natural environment, protecting local biodiversity, open space and tackling climate change through adaptation and mitigation response
Promote a sustainable waste strategy focussing on reducing waste, recycling and re-use
Promote economic and social sustainability through the backing of local markets and businesses, encouraging engagement.
To address the challenges presented by climate change (both mitigation to reduce the worst impacts of climate change and adaptation to address those impacts, e.g. with regards to severe weather events and flooding).
These points should be embedded in all new policies, strategies and projects so that the Council can clearly demonstrate our own commitment to sustainable development.
As mentioned previously sustainability is theoretical and the practice is different for every individual and organisation. As long as the impacts of the decisions we make are considered then we are acting as sustainably as allowed.
Buildings and estates and activities within the councils own operations -
- Making effective use of resources and ensuring the built environment is developed and managed sustainably, particularly in construction practices for the Council's own projects.
Background 
The use of natural resources to maximum capacity can have serious negative impacts on the environment and our health, through the impact on air quality.
By reducing our own consumption of these natural resources it makes a considerable contribution to the sustainability of our local area.
Bassetlaw's Carbon Management Plan when published will identify in detail those projects that are promoted by the Sustainability Officer and enabled by Facilities Management are going to reduce our carbon emissions.
What are we doing? 
Completion of the Department of Energy and Climate Change, Greenhouse Gas Report.
The draft Carbon Management Plan
Climate Change Strategy
Introduction of renewable technologies to lower the impact on natural resources
Installation of energy efficiency initiatives in council buildings
Partnership working to improve efficiency of housing stock and private households
What are we going to do?
Research further renewable energy options, particularly with the introduction of the Renewable Heat Initiative
Produce a water footprint for the Council, working towards placing less demand on a diminishing resource and reduce energy usage and carbon emissions as water supply and treatment of all consume energy
Works towards an Eco-Management and Audit Scheme (EMAS)
Monitoring Performance
Monthly energy use figures for Bassetlaw District Council buildings
Quarterly water figures for Bassetlaw District Council buildings
Carbon Management Plan
Annual Greenhouse Gas Emissions report for Council services and estate buildings
Promote sustainable travel, reduce mileage associated with council estates and services by reorganising routes and car share
Background
Our demand for convenient travel has come at an environmental cost. The choice of transport we make impacts upon the consumption of fossil fuel and contribute to the emissions and natural resources.
The greenhouse gas report of 2010/11 and 2011/12 reported CO2e (CO2 equivalent - all greenhouse gasses) emissions of 3422.31 carbon tonnes reduced to 2567.4 carbon tonnes. Positive actions by the Council have improved these figures and contributed to the Climate Change Strategy and Carbon Management Plan.
What are we doing? 
A fleet review has reduced the number of vehicles in use
Introduction of hybrid and electric vehicles within the Councils fleet
Five new Refuse vehicles purchased, fitted with the latest Euro 5 emission spec engines, December 2012, Euro 6 emission spec due out September 2013.
Five Terberg Electric hydraulic bin lifts purchased with above, giving an expected 6-12% fuel saving on existing engine driven hydraulic bin lifts.
Trackers to monitor driver performance, which produce reports on their driving style, harsh braking, heavy acceleration, which we will hope to use to educate regular offenders.
All vehicles where possible are speed restricted to the most suitable fuel efficient limit recommended by the manufacture and our operation. (Refuse Freighters 49 mph, vans 50-55 mph).
Working with Terberg/Dennis Eagle to introduce new technology to improve further fuel efficiencies on Dennis Refuse compaction equipment.
A1 Housing fleet replacement from September 2012, 54 vehicles in total, most with eco stop/start technology and improved miles per gallon.
Green Fleet Review carried out by the Energy Savings Trust in 2012, recommendations on Grey Fleet (council owned /rented vehicles)
What are we going to do?
Five more refuse vehicles to be purchased with Euro 6 emission spec 13/14, all will have Electric bin lifts fitted. 
When replacing any new vehicle we always look to reduce in size where possible. Eg Med Waste and Refuse sidewinder both 7.5 tonnes, averaging 8-12 mpg, replaced with 4.6 tonne vehicles with expected mpg of 20-22 mpg. Vehicles arriving April/ May 2013.
Trackers to be fitted to almost complete BDC Fleet, Refuse, Street Cleaning and Grounds Maintenance in March 2013. These will assist in improving Refuse and Street Cleaning route planning, thus saving fuel and excess mileage.
Monitoring performance
Fuel usage reports
Driving style reporting
Greenhouse Gas Report
Enhance the natural environment, protecting local biodiversity and open space.
Background
National legislation and policy places a duty upon local authorities to both protect and enhance the natural environment. The Natural Environment and Rural Communities (NERC) Act (2006) requires all public bodies to have regard for biodiversity conservation when carrying out their functions, along with the National Planning Policy Framework which sets out planning policies which local planning authorities should have regard to on biodiversity and open space matters.
The natural environment (also referred to as 'green infrastructure') is regarded as one of Bassetlaw's most valued resources contributes significantly to the quality of life in, and the character of, the District. The landscape and biodiversity it contains should be protected and enhanced, in order to maximise the benefits it offers as a resource and habitat for people and wildlife.
The District has a strong biodiversity interest, with 19 SSSIs covering 1,364 hectares, four Local Nature Reserves and approximately 300 Local Wildlife Sites. Watercourses and wetlands are significant parts of Bassetlaw's green infrastructure and a number of former mineral working sites are now of significant biodiversity or geological interest.
The current Bassetlaw Open Space and Play Pitch Assessments identify 481 sites that include: sports pitches; children's play areas; parks and gardens; natural and semi-natural green space; green corridors; amenity green space; allotments; cemeteries and church yards.
What are we doing?
As a planning authority, Bassetlaw District Council has undertaken studies to assess the current state of the natural environment in the District. We have established policies to ensure that the level of new development planned across the District does not undermine the strength and quality of our environmental assets and, instead, contributes to improvements to the connectivity of the overall green infrastructure network and addresses deficiencies where they exist.
What are we going to do?
It is likely that the most prominent opportunities will arise in relation to residential and employment developments coming forward from allocations made in the Local Plan.
Development proposals will be expected to demonstrate that they protect and enhance green infrastructure assets affected by new development and take opportunities to improve linkages between green corridors, maintaining and enhancing public access and use. Proposals will be expected to take opportunities to restore or enhance habitats and species' populations and to demonstrate that they will not adversely affect or result in the loss of protected trees and hedgerows; ancient woodlands; Sites of Special Scientific Interest (SSSI); Regionally Important Geodiversity Sites; Local Wildlife Sites (Sites of Importance for Nature Conservation (SINC)); Local and UK Biodiversity Action Plan Habitats (including Open Mosaic Habitats on Previously Developed Land); and Protected Species.
Development proposals will be expected to demonstrate that they will not adversely affect or result in the loss of open spaces and sports facilities, while new development proposals will be expected to provide functional on-site open space and/or sports facilities, or to provide contributions towards new or improved facilities elsewhere locally, as well as contributions for on-going maintenance, to meet any deficiencies in local provision (when assessed against locally defined standards) that will be caused by the development. While particular support will be given to further development of the Idle Valley Project, the Trent Vale Partnership and the Sherwood Forest Regional Park, the Council will 11 also support initiatives emerging through Local Nature Partnerships covering the District. Similarly, the Council has recently undertaken a review of sustainable transport across the District and will therefore endeavour to deliver improvements to the existing network.
Monitoring performance
Monitoring and review are key components of the planning system, used to ensure that policies are delivering the anticipated results. Monitoring indicators have been established to assess the effectiveness of the policies in the Council's Core Strategy and Development Management Policies Development Plan Document.
The monitoring process for Policy DM9: Green Infrastructure; Biodiversity & Geodiversity; Landscape; Open Space and Sports Facilities is set out in the table below.
Policy
Indicators
Purpose/Target
Outcomes
Implementation / Delivery Mechanism
Lead Agencies
DM9: Green Infrastructure; Biodiversity; Landscape; Open Space and Sports Facilities

Total gains in identified Green Infrastructure Sites, Biodiversity Sites, Open Spaces and Sports Facilities:

Indicator DM9a

Green Infrastructure, Biodiversity sites, open spaces and sports facilities increased or improved

To protect and enhance green infrastructure, biodiversity and open space across Bassetlaw

To encourage development to make a positive contribution to the green infrastructure development network

Core Strategy DPD

Site Allocations DPD

Supplementary Planning Documents

Local Biodiversity Action plan

Local and subregional Green Infrastructure Strategies

Development Management Process

Bassetlaw District Council

Nottinghamshire County Council

Natural England

Nottinghamshire Wildlife Trust

Developers

Landowners

 

Total losses of identified Green Infrastructure Sites, Biodiversity Sites, Open Spaces and Sports Facilities:

Indicator DM9b

To minimise the loss of green infrastructure, biodiversity sites, open spaces and sports facilities across the District

To protect and enhance green infrastructure, biodiversity and open space across Bassetlaw
Background 
In Bassetlaw, as well as the UK as a whole, we are consuming resources at an unsustainable rate, and dealing with society's waste is one of the major challenges that modern local government faces.
An increase in waste generation impacts on social, economic and environmental well-being of individuals as well as the district as a whole. For example, not only does waste put pressure on many finite resources in terms of producing new materials and the energy that goes into making them but also it can present a potential threat to the environment and human health through land, air and water contamination as well as it impacting on the quality of an area as a place to live in terms of where and how the waste is disposed of.
What are we already doing? 
We provide a kerbside recycling collection for paper, card, cardboard, plastic bottles, yoghurt pots, cans and aerosols. 
We currently have over 60 Recycling Bring Sites, the majority of which collect glass
Working closely with Nottinghamshire County Council to improve the quality of the recyclate collected from the kerbside
Purchased new fuel-efficient refuse vehicles that help provide a more sustainable refuse fleet without loss of capability
Installed electric lifts on freighters which provide a quieter bin lifting mechanism and reduces noise pollution as well as being more fuel efficient.
Provide "on-street" recycling facilities for litter
What we are going to do
Reviewing the refuse rounds to ensure that the most sustainable and cost effective routes are taken when emptying bins
Support and promote Home Composting, the most sustainable way of disposing of garden waste
Promote the recycling of textiles and increase the number of Bring Sites that accept textiles where possible.
Promote the recycling of glass and increase tonnages
Educate and build on the work already done to reduce contamination of the recycling bin.
Monitoring performance
Decrease in total amount of residual waste
% increase in Recycling Waste
Increase in number of Recycling Bring Sites
% Reduction in contamination in Kerbside Recycling Bin
Promote economic and social sustainability through the backing of local markets and businesses, encouraging engagement
Background 
The markets operation has undergone a series of refinements due to relocation issues at Worksop and is currently under a further review to ensure that the market income exceeds the markets operating costs thus keeping it a sustainable activity for the council. It is of course important that the market be attractive to shoppers and visitors in order to create a vibrant town centre and thus help to generate a good level of income.
In terms of Worksop Creative Village, the project is an extensive renovation of 100 year old buildings deliberately aimed at creative industries. The immediacy of the take up of the units has clearly demonstrated the demand for this type of unit which in the long term make the project sustainable as income exceeds running costs
Retford Enterprise centre was built three years ago and due to its' size will always be borderline as to whether income and expenditure are matched. However, other income streams such as meeting rooms, the use of a wind turbine to contribute to the running costs plus on-selling of broadband all help to produce additional income streams which make the buildings sustainable.
What are we doing?
Farmers markets and local produce
Improvements to the local markets
Retford Enterprise Centre – BREEAM, energy efficient build for office space
Creative Village – arts and craft centre
What are we going to do?
Enable job opportunities for local people
Enable skills growth within the area
Set a business example on becoming greener and more aware of sustainable technologies and recycling
Monitoring performance
In all cases income and expenditure are carefully monitored, the facilities are marketed (although for Worksop Creative Village the units are full so no additional marketing is needed) predominantly using social media.
To address the challenges presented by climate change (both mitigation to reduce the worst impacts of climate change and adaptation to address those impacts, e.g. with regards to severe weather events and flooding)
Background
In 2007 over six hundred properties in Bassetlaw flooded internally. Many businesses as well as households suffered economic loss. Following the floods and the subsequent publication of the Pitt Review, the Council stated its commitment to meet the requirements of the review and reduce the risk of flooding in Bassetlaw where possible.
What are we doing?
Partnership working, creation of Bassetlaw Drainage Group, including EA, IDB's, Severn Trent, Notts County, British Waterways
Flood resilience packs for the worst affected villages
Capital funding of £110k for 2009-2013 for flood alleviation works
Successful funding applications made to the Environment Agency for £380k in total
Flood response vehicle and pump purchased
Topographical surveys and flooding investigations made
What are we going to do?
Continuation of works in the those still threatened by flooding
Continued partnership working
Maximise the capacity of the existing land drainage network and surface water sewer capacity wherever possible working with partners
Identify areas at risk and improve the service level, where funding is available
Designating 3rd party FCERM Structures
Work within the planning framework to ensure new development either does not increase flood risk or actually reduces it
Monitoring performance
Quarterly meetings of the LRF to ensure the Council are involved in future flood planning
County Flood Response Plan
Accident Information Management software
Bassetlaw Drainage Coordination Group
Climate Change Strategy
Property and Regeneration Group
Conclusion
The general consensus is that, to fulfil the requirements of sustainable development, there is a need for Local and Regional Authorities to be democratic and to integrate sustainability into mainstream policies and practices. However in order to initiate successful policies for sustainable development the impact of such involvement depends upon authorities having the power, competence and resources to act with fiscal rectitude. Bassetlaw District Council aims to reduce its environmental impact and improve economic resource by implementing sustainability via the key areas mentioned in the strategy
In a time of austerity it is important to maximise sustainable benefits from Council assets to ensure value for money for local communities. This highlights the need to continue with resource efficiency. Decisions now will affect the generations to come.
Sustainable development requires an all-encompassing approach, to permit participation and empowerment at the sub-national level. The complexity of environmental issues; the lack of adequate resources; and the fact that most local government activity is defined by narrow statutory responsibilities which restrict capacity for discretionary action are barriers to being completely sustainable in our daily actions.
Nonetheless by concentrating on its main areas of responsibility, the Council can begin to build a framework of sustainability that can be built upon depending on resource, capacity and policy. The Council aims to be a leader in sustainability and to set an example for the general public.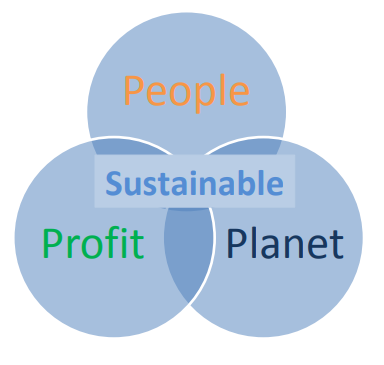 For further information please contact: Kerri Ellis - Sustainability Officer.
---
Last Updated on Tuesday, May 5, 2020