Contents
Executive Summary
This Service Plan has been produced in order to give clear details of the Health and Safety enforcement services to be provided and how they will be carried out in the coming year. It also shows how our regulatory service contributes to, and supports, the delivery of the Corporate Objectives to the Community as a whole.
The work of the service supports Bassetlaw District Council's corporate plan objectives. To achieve this we aim to ensure businesses meet legal requirements and support raised standards to provide safer workplaces. Improved standards can help businesses to become more prosperous, which can in turn benefit the whole community.
We protect the community by using the full range of our regulatory powers, sensibly, proportionately and using risk based and intelligence led action. With expertise that is seen as an important resource to the council, the service is provided through a combination of interventions. These include proactive inspections, partnership working, education and enforcement.
We focus our resources on high-risk activities that may injure or kill people at work, and seek out sensible controls to protect vulnerable workers, minimising and preventing harm.
We are attuned to delivering what is important in our locality and to our local community, but understand and have a capability to work with and address national regulatory priorities. There is an increasing recognition that we can and should play a key role in the community health and well-being agenda. We aim to contribute to this during the forthcoming year by building on our existing partnerships to try to bring about a reduction in the incidence rate and number of cases of work related ill health in the community.
Due to the recommendations derived from the Löfstedt Report, programmed inspections are no longer a priority for Local Authorities. Instead the Council is required to use the full range of regulatory interventions available to influence behaviour and improve the management of risk.
Regular monitoring of progress against the plan will be carried out. Checks will also be made on the consistency of action taken and the quality of work carried out within the district.
The Council will also have to react to any unforeseen events that occur throughout the year such as accidents, dangerous occurrences and service requests, which impact upon the resource available for programmed work.
Introduction
This Service Plan has been developed by Bassetlaw District Council to comply with the Health & Safety Executives (HSE) Section 18 Guidance which requires Local Authorities to produce an annual service plan detailing the Authority's arrangements for discharging its statutory health & safety responsibilities. It forms the basis of the Authority's health and safety inspection, intervention and enforcement functions, and ensures that the work undertaken contributes to HSE identified national priorities, as well as locally identified needs.
The production of a Health and Safety Service Plan ensures that local businesses, members of the public, members of the Council and other agencies understand the approach to Health and Safety inspection, intervention and enforcement that has been adopted by this Authority. This service plan details how the Environmental Health Regulatory Team of BDC plans to undertake its duties and contribute to national targets and locally identified priorities and ambitions. It also demonstrates our commitment to the provision of an effective and value for money service that is fair, consistent, open and proportionate.
Service Aims and Objectives
Service Aims
The overall aim of the service is to: 
We will strive to ensure that the risks to people's health, safety and welfare from work related activities within the district are properly controlled and managed, through the appropriate combination of advice, intervention, inspection, investigation and enforcement. We will support duty holders in their responsibilities through partnership, education and enforcement. We will also work in partnership with the Health and Safety Executive, Public Health England and the other Nottinghamshire Local Authorities, to further these aims.
We will ensure that all Health and Safety law enforcement that is undertaken by BDC is informed by the principles of;
Proportionality in application of the law and securing compliance
Consistency of approach 
Targeting or enforcement action, and
Transparency in how we operate and what duty holders subject to regulation, and the wider public may reasonably expect 
Overarching and informing the Health & Safety Service Plan is the national regulatory and legislative landscape. Health and safety regulation has been subject to considerable review over the last three years. Most significant was the report by Lord Young entitled 'Common Sense Common Safety' published in October 2010, followed in November 2011, by the Löfstedt report "Reclaiming health and safety for all: An independent review of health and safety regulation".
Professor Löfstedt's report sets out a number of risk- and evidence-based
recommendations that aim to:
Reduce regulatory requirements on business where they do not lead to improved health and safety outcomes, and
Remove pressures on business to go beyond what the regulations require, enabling them to reclaim ownership of the management of health and safety.
Lord Young's report was focused on shifting the focus of health and safety enforcement activity away from businesses that do the right thing, and concentrating on:
Higher risk areas, and
Dealing with serious breaches of health and safety regulations
The effect of these reviews on Local Authority Health and Safety inspection and enforcement work has been significant. Most obvious are the following:
Increased direction towards nationally defined inspection priorities,
A requirement to reduce a third of proactive inspection,
A requirement to increase investigation and targeted enforcement activities, and
Changes to the reporting requirements for accidents
A renewed focus on business support
The following list details the main guidance, strategies, documents and government departments that influence and direct a LA's health & safety enforcement service, as well as current consultative documents.
The National Local Authority Enforcement Code (the Code) contains the most significant drivers that will shape health & safety service delivery into the future. The Code has been developed in response to the Lofstedt report, which recommended that HSE be given a stronger role in directing LA's health & safety inspection and enforcement activity.
The Code aims to set out Government expectations for a risk based approach to targeting health and safety regulatory interventions, using a principle based framework that recognises the roles of business and the regulator in the management of risk. It sets out the risk based approach to be followed by LA regulators in order to provide business with a consistency of approach and ensuring LAs make the best use of their regulatory resource.
Meeting the requirements of the Code will deliver the central Governments expectation that business operating in comparatively lower risk premises should not be subject to proactive, unannounced inspections, unless there is reason to suspect poor performance. The Code was published in 2013.
It is worth noting that if a business considers that they operate in a lower risk sector and have been unreasonably subject to a proactive health and safety inspection by an LA they can complain to the Independent Regulatory Challenge Panel whose members are deemed to have the competence and experience to assess regulatory matters. They will look into the complaint and the outcome of their deliberations will be made publically available on the HSE website. Where a complaint is upheld by the Panel, the HSE have undertaken to work with the LA to provide advice and assistance to improve and enable their implementation and compliance with the Code.
Summary of National Planning Priorities 2014 - 2015
Local Authorities are required to decide, plan and target their health & safety interventions, having regard to the full range of interventions available, the risk profile of the business/sector, national information (accident statistics, national priorities, Primary Authority inspection plans) and local knowledge and priorities. Local Authorities are now required to reserve proactive inspection for category A premises and those activities and sectors identified within Annex A of the Code (below). LAs should consider the use of other non-inspection techniques for other categories of premises. In keeping with the Government's reforms of health and safety, there are no restrictions on reactive work.
| | | | |
| --- | --- | --- | --- |
| No | Hazards | High Risk Sectors | High Risk Activities |
| 1 | Legionella Infection | Premises with cooling towers/evaporative condensers | Lack of suitable legionella control measures |
| 2 | Explosion caused by leaking LPG | Premises (including caravan parks) with buried metal LPG pipe work | Buried metal LPG pipe work For caravan parks to communal/amenity blocks only) |
| 3 | E.Coli / Cryptosporidium infection (especially in children) | Open Farms/Animal Visitor Attractions | Lack of suitable microorganism control measures |
| 4 | Fatalities / injuries resulting from being struck by vehicles | Tyre fitters*/ MVR* (as part of Car Sales) High volume Warehousing/Distribution | Use of two-post vehicle lifts Workplace transport |
| 5 | Fatalities / injuries resulting from falls from height, amputation and crushing injuries | Industrial retail/wholesale premises e.g. steel stockholders, builders/timber merchants | Workplace transport/work at height/cutting machinery /lifting equipment. |
| 6 | Industrial diseases (occupations asthma / deafness) | MVR* Industrial retail/wholesale premises e.g. steel stockholders, builders/timber merchants | Use of Isocyanate paints Noise and dust. |
| 7 | Falls from height | High volume Warehousing/Distribution | Work at height |
| 8 | Crowd control & injuries / fatalities to the public  | Large scale public events/sports/leisure facilities e.g. motorised leisure pursuits including off road vehicles and track days | Inadequate consideration of public safety e.g. poor organisation and/or supervision of high speed or off- road vehicle movements |
| 9 | Carbon monoxide poisoning and gas explosion | Commercial catering premises using solid fuel cooking equipment | Lack of suitable ventilation and/or unsafe appliances |
| 10 | Violence at work  | Premises with vulnerable working conditions (lone/night working/cash handling e.g. betting shops/offlicences/care settings | Lack of suitable security measures/procedures |
Key service delivery objectives 2014 – 15
To inspect Category A premises
To inspect premises identified as suitable for proactive inspection as identified within the Code
To investigate accidents in line with our prioritisation procedures
To respond to complaints and enquiries in line with prioritisation procedures
To respond to referrals from other services or organisations
To carry out inspections / interventions as part of a national identified priority
To carry out interventions related to significant local issues or where it is justified by a sufficient weight of intelligence over a period of time
To carry out interventions / inspections as appropriate at large scale outdoor events within the district
Identified Local Priorities for Interventions
Awareness raising and checking safety of gas equipment in catering establishments
Outdoor events
Laser equipment in the beauty sector
Tattooist and skin piercers hygiene practices
Identification of unregistered premises with cooling towers or evaporative condensers and provision of advice / guidance in respect of legionella where appropriate
Provision of advice to duty holders
Promotion of sensible risk management
Continuing to work in partnership with the PCT to support the Bassetlaw Workplace Health Scheme
To support the districts large employers and use accident reports to focus on areas for intervention and accident reduction.
Links to the Corporate Plan
The Council has a Corporate Plan for 2014 – 2017, which sets out the Authorities priorities for the next three years.
The Councils ambitions are:
| | |
| --- | --- |
| A viable co-operative Council | Local Growth |
| Quality Housing & Decent Neighbourhoods | Local Living Standards |
These ambitions are supported by a range of priorities including:
Creating an environment which attracts new businesses and supports business growth,
Attracting inward investment and promoting Bassetlaw as a place to do business,
Ensuring Bassetlaw has a high quality retail and leisure offer,
Attracting new business start-ups and increasing footfall,
Working with partners to develop skills and promote employment prospects,
Taking appropriate and proportionate enforcement action where necessary.
These ambitions are supported by a range of priorities including:
Creating an environment which attracts new businesses and supports business growth,
Attracting inward investment and promoting Bassetlaw as a place to do business,
Ensuring Bassetlaw has a high quality retail and leisure offer,
Attracting new business start-ups and increasing footfall,
Working with partners to develop skills and promote employment prospects.
A safe and healthy working environment is crucial in contributing to the overall quality of people's lives. It is equally important to support businesses by the timely provision of advice and information and to ensure a level playing field between businesses by ensuring the consistent application of regulatory requirements.
The work carried out by the Council's Environmental Health regulatory service will contribute to these priorities in terms of providing advice and guidance to businesses on cost-effective compliance with health and safety legislation and helping to ensure the provision of safe places of work within the Bassetlaw District. The service will promote sensible risk management to encourage jobs and enterprise and reduce unnecessary burdens on business, whilst ensuring that the health safety and welfare of employees remains a priority. Interventions and activities will be risk based and focussed on priority areas. This not only contributes directly to improved health and wellbeing of the local community but also supports local businesses and the local economy. It also supports the Councils duty to promote economic, environmental and social wellbeing in the community.
Links to National Priorities
The Rogers Review recognised that Health & Safety at work as a key enforcement priority in 2007. This has been reiterated by the publication of the National Enforcement Priorities for Local Authority Regulatory Services by the Local Better Regulation Office in November 2011(1) . Included in these priorities is the need for Regulatory services to:
Help people to live healthier lives by preventing ill health and harm and promoting public health,
Promote local prosperity by supporting businesses to achieve compliance, and
Protect employees from injury and ill health at work
The Health and Safety Executive's strategy "The Health and Safety of Great Britain; Be part of the solution" contained a number of key goals that are shared by the Local Authorities who work in close partnership:
To investigate work-related accidents and ill health and take enforcement action to prevent harm and secure justice when appropriate.
To encourage strong leadership in championing the importance of, and a common sense approach to, health and safety in the workplace.
To motivate focus on the core aims of health and safety and, by doing so, to help risk makers and managers distinguish between real health and safety issues and trivial or ill-informed criticism.
• To encourage an increase in competence, which will enable greater ownership and profiling of risk, thereby promoting sensible and proportionate risk management.
To reinforce the promotion of worker involvement and consultation in health and safety matters throughout unionised and non-unionised workplaces of all sizes.
To specifically target key health issues and to identify and work with those bodies best placed to bring about a reduction in the incidence rate and number of cases of work-related ill health.
To set priorities and, within those priorities, to identify which activities, their length and scale, deliver a significant reduction in the rate and number of deaths and accidents, thereby creating healthier, safer workplaces.
To adapt and customize approaches to help the increasing numbers of SMEs in different sectors comply with their health and safety obligations.
Bassetlaw District Council contributes to the achievement of these goals. We operate in partnership with HSE to ensure that duty holders manage their workplaces with due regard to the health and safety of their workforce and those affected by their work activities. To achieve this we provide advice and guidance on what the law requires, conduct inspections, interventions and investigations, and take enforcement action where appropriate.
There are many regulatory bodies whose remit includes protection of the public from work activities. Local authorities also have wider responsibilities for the safety of local communities. Where appropriate, HSE and local authorities will therefore work with partner bodies (be they other public, private or voluntary sector organizations) to ensure that activities are co-ordinated, duplication of effort is avoided and that public safety is effectively delivered.
Bassetlaw District Council fully supports the HSE strategies and associated priorities. In setting our objectives and carrying out our health and safety enforcement role, we will ensure that the above strategies and priority areas are reflected in the enforcement and guidance activities carried out by our Inspectors. We will also continue to work closely with other Nottinghamshire Councils and the HSE through the work of the Nottinghamshire Health and Safety Working Group and involvement in campaigns, at both national and local levels.
The Authority
Profile of the district
Bassetlaw lies in the north of Nottinghamshire and occupies almost 30% of the county. The population of the district is estimated around 111,400. According to the most recently available statistics, about 3.6% of the population is from ethnic minority groups. The main economic and population centers are Worksop (population 40,900) and Retford (population 21,145). The remaining residents live in rural areas in one of the 73 villages in the district. The rural communities are very diverse ranging from small market towns and former mining communities, to very small hamlets. The A1/A1M runs the length of the district and provides good transport links to local businesses and national companies.
The total number of premises for which we are the enforcing authority for health and safety is estimated to be around 2000. These businesses are spread widely over our entire geographic area. Due to the constant changes that take place in small businesses it is a challenge to ensure that up to data is held. There is no requirement for a non-food business to register with our department and we continuously try to identify businesses in which we are the responsible authority for enforcement.
Council Organisational Structure
Bassetlaw District Council has adopted a structure of Cabinet and Leader.
The Environmental Health Service sits within the directorate of Regeneration and Neighbourhoods. The portfolio is Neighbourhoods and the portfolio holder is Cllr Julie Leigh.
Overall strategic responsibility for the Health & Safety Service lies with the Director of Regeneration and Neighbourhoods. The senior management structure is under review and a Head of Neighbourhood Services will be appointed in June 2014. The Environmental Health Department is currently split into two teams: Regulatory and Neighbourhood. The Regulatory section of the Environmental Health Department operates the Health & Safety Service, based in Queens Buildings, Worksop. Currently, day-to-day service delivery is managed by a Principal Environmental Health Manger (Regulatory), reporting to the Director of Regeneration & Neighbourhoods.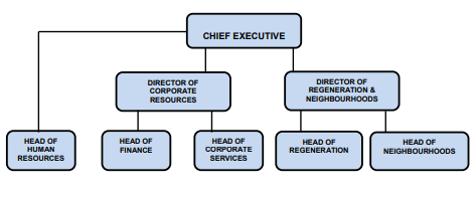 Regulatory Team Structure as at 1st April 2014
Scope of the Council's Health and Safety Service 
The Regulatory team carry out a range of key functions in relation to health & safety:
Health and Safety inspections or other intervention strategies in local authority enforced premises
Investigation of accidents, cases of occupational diseases and dangerous occurrences 
Dealing with statutory notifications of asbestos removal or unsatisfactory lifting equipment examination 
Maintenance of database of local authority enforced health and safety premises. 
Provision of advice and information to businesses and the public
Carrying out health and safety awareness activities and campaigns
Educative work with business operators 
Enforcing the smoking ban in all premises in the district 
The health and safety service is delivered by qualified staff operating from bases at Queens Buildings, Worksop. Office hours are between 08:45 and 17.00, Monday to Friday. Evening and weekend inspections and interventions are carried out as determined by risk and service requirements and the premises opening hours.
Emergency Health & Safety matters are channeled through an out-of-hours emergency number, operating through a call centre. Emergencies would be passed to a senior officer who could contact members of the team if required. Although specialist regulatory team officers could be contacted they are not on duty at all times.
Health and Safety Service Enforcement Responsibilities
The health and safety inspection and enforcement function at Bassetlaw District Council has been revitalized over the last few years, in line with central government and HSE policy, to place a greater emphasis on project working and risk-based visits/interventions. Undertaking high-risk health and safety inspections has however remained a priority
Fluctuations in both the total number of recorded premises and the risk ratings of those premises is not unusual as, during the course of any year, significant numbers of premises will open, close down or undergo changes of ownership or management or both. These premises are removed from or brought into intervention programmes as the changes occur throughout the year. This means that the service responds to variations in numbers and alterations to the predicted programme of activity on an on-going basis. The most recent known split of premises by category for which the Authority has Health & Safety enforcement responsibilities is shown in Figure 1 below. The data base currently holds details of around 1600 premises for which Bassetlaw District Council is the enforcing authority. It is considered possible that the actual number is closer to 2000. We continue to add to this data base on a regular basis.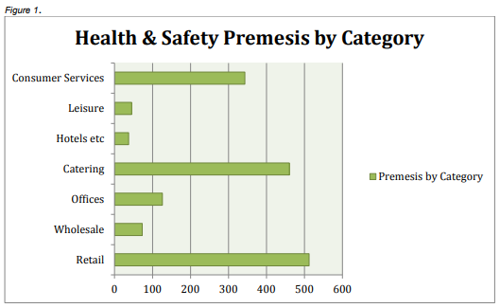 Enforcement Policy 
Bassetlaw District Council recognises the importance of having a documented policy on Health and Safety enforcement, including prosecution. This will facilitate consistent and fair enforcement of the Health and Safety at Work etc. Act 1974, and Regulations made there under. The current Environmental Health Enforcement policy was approved by Council on the 17 December 2009 (minute No 48D) and covers all aspects of Environmental Health work/activities. This document will be subject to regular review by The Principal Environmental Health Manager who is responsible for Health and Safety enforcement, with reference to guidance offered by The Health and Safety Executive (HSE). This document will also be reviewed in association with other Nottinghamshire Authorities through relevant Health and Safety liaison group networks in order to maintain consistency of enforcement across the Nottinghamshire area. The Council's Enforcement policy will also be informed by the Enforcement Management Model (EMM) developed by the Health and Safety Executive and the Code for Crown Prosecutors.
The Environmental Health Service will carry out their duties in accordance with the principles of the national Concordat of Good Enforcement, as promoted by the Government and formally adopted by the Council in 1999. This means that the Environmental Health Service will carry out its functions in an equitable, practical and consistent manner to promote a thriving local economy, whilst working to secure a safe and healthy environment for all residents and visitors.
Enforcement decisions are also determined with reference to the overarching 2005 Council Enforcement Policy document The Council is committed to achieving its stated aims through a service delivery approach that is designed to:
Help businesses and others meet their legal obligations without unnecessary expense through the promotion of sensible risk management;
Reduce the number of work-related fatalities, injuries and cases of ill health;
Gain widespread commitment and recognition of what real health and safety is about;
Ensure that those who fail in their health and safety duties are held to account by taking firm action, including prosecution where appropriate, against those who flout the law or act irresponsibly;
Motivate all those in the health and safety system as to how they can contribute to an improved health and safety performance;
Service Delivery
Health and Safety Inspections & Interventions 
The completion of programmed Health and Safety inspections and interventions is a priority for the service. From April 2010 there was a new method of determining the frequency and type of intervention that should be undertaken in each type of premises. Figure 2 (below) shows these new frequencies in accordance with HELA Circular 67/2 (rev 3) "Advice / Guidance to Local Authorities on Targeting Interventions". The guidance provides a simple rating system for inspectors scoring premises based on four factors: Confidence in Management, Health performance, Safety performance & Welfare Standards.
The guidance also provides a way to categorize the risk premises pose (high, medium or low), with low risk premises being subject to non-inspection intervention techniques. Authorities may determine that an inspection is the most appropriate approach in these circumstances, but other suitable interventions may be considered appropriate e.g. invites to seminars, followed by a visit should the business fail to attend. This approach, although consistent with the HSE approach, is quite a radical departure from the previous guidance. There is no longer any cumulative adding of various factors, which produces a single overall numerical score. Instead, standalone scoring against 4 criteria is used to measure what controls an employer has in place and, using this, to determine a risk rating. Public risk is now incorporated within the overall context of the rating system and no national accident data (NADs) weightings are applied. In addition, to simplify the rating system, there are now only 4 risk categories of premises instead of 6.
Description 
New Category
Rating Score
Intervention Frequency
Highest Risk
A
Score of 5 or 6 on any risk

Suitable for proactive inspections until risks are adequately managed such as that the premises can be re-categorised. 

Accident / complaint investigation

 
B1
Score of 4 on any risk

Not suitable for proactive inspection but all other interventions to be considered.

Accident / complaint investigation

 
B2
Score of 3 on any risk

Not suitable for proactive inspection; consider the use of other interventions only where necessary based on national and local information

Accident / complaint investigation

Lowest Risk
C
No score greater than 2

Use non-inspection intervention methods / techniques.

Accident / complaint investigation
Priority Inspections and Interventions
The development of intervention areas based on national and local priorities represents a major step change in the approach to joint working between the HSE and Local Authorities in terms of targeted health and safety interventions; ensuring resources are focused into areas where they are likely to have the greatest impact. It represented a move away from conducting only traditional risk-based health and safety inspections, although an element of this traditional inspection programme must be maintained, particularly for higher risk premises, as discussed above.
The following key areas of activity will be targeted in 2014/15;
| | |
| --- | --- |
| Targeted Activity  | Estimated Officer Time (Days) |
| Category A Premises | 5 Days |
| LGP Pipework Priority (National Priority) | 2 Days |
| Visitor Attractions with Animals (National Priority) | 2 Days |
| Gas Safety & solid fuel targeted interventions in Hotel & Catering operations. (Local & NationalPriority) | 20 Days |
| Primary Authority work (Local Project) | 30 Days |
| Welbeing at Work Scheme (Local Project) | 5 Days |
| Legionella (National priority) | 6 Days |
| H & S in Tattooists and special treatment premises, including licensing of lasers and interventions in other beauty industry premises | 15 Days |
| Developing Business Liason Partnerships in licensed trade and through local networks | 10 Days |
|   | 105 Days 0.5 FTE |
This more targeted approach to health and safety does not, however, preclude the provision of wider guidance on all aspects of health and safety regulations and compliance.
Investigation of Reported Accidents, Injuries and Work Related Illness
An important part of the work of the Environmental Health Service is to investigate reports of accidents at work. Notifications are referred to the authority via the HSE's Incident Contact Centre (ICC), by the operator of the premises where the incident occurred, or occasionally, by or on behalf of the injured person themselves. 
To ensure consistency in the selection of accidents for investigation, the criteria contained in LAC 22/13 has been adopted. Accident notifications provide a valuable source of information for drawing the Council's attention to premises where uncontrolled health and safety risks exist or where enforcement action is required. All notifications that are not within the jurisdiction of the authority are referred to the relevant Local Authority or the HSE, as appropriate.
During 2013/2014, the number of accidents reported to the authority was 86. The number of accident reported to the authority is shown below at Figure 4. The number of reported accidents had been showing a steady increase over recent years, which was thought to reflect a combination of improved reporting of accidents by businesses as a result of heightened awareness from activities of the Council and the HSE and an increase in the number of larger premises opening in the area (for example, in the Manton Wood area.) However, there is now a noticeable reduction. This coincides with changes to reporting and the requirement to report over 7 day injuries as opposed to 3 days. The type and frequency of accidents that occur within local employers are monitored to ensure that action is taken where appropriate. The reduction in reported accidents may not affect significantly the overall level of activity and investigation by the Council, as the selection criteria in operation means that it is only the more serious or significant events that would, in any event, get fully investigated.
Health and Safety Complaints and Service Requests
Another valuable source of intelligence regarding premises are complaints from the public. A history of the number of complaints and service requests received by the service in recent years is detailed below at Figure 5.
It can be seen that the overall trend in numbers of complaints and requests for advice is increasing. It is not clear if this is a genuine reflection of an increase in the need for assistance, perhaps due to the current economic climate, or due to better service visibility and the quality of the relationships we are seeking to develop between the Authority and duty holders. The number of complaints about health and safety in premises was 45 and requests for advice were 52.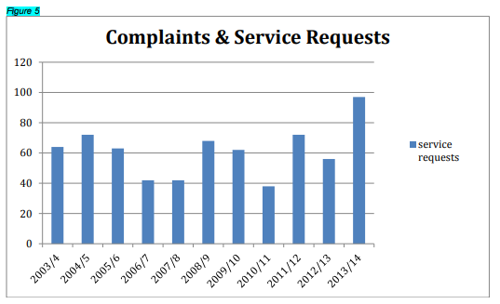 Primary Authority Scheme
Bassetlaw District Council fully supports and endorses the Primary Authority Scheme. The Council has acted as a Lead Authority in connection with Wilkinson's since 1995. At present Wilkinson's and Bassetlaw District Council are in discussion with a view to formalizing this arrangement.
The Council is committed to responding positively to enquiries from other Local Authorities and will endeavour to provide such authorities with sufficient information and help to enable them to make appropriate enforcement decisions.
Over the past several years, significant work has been undertaken with Wilkinson's, including;
Joint attendance of Lead Authority Partnership training;
Joint attendance at a Training session designed to encourage enhanced working on slips and trips 
Work involving the measurement of the slip resistance of floors with the aim of reducing slips and trips in stores throughout the country 
A partnership project between Bassetlaw, the HSE, representatives of Wilkinsons and Canute on "Moving Goods Safely" (MGS2). As a result of this, work was carried out which will tackle issues in the supply chain. 
Partnership work during 2013/14 was around the Primary Authority Scheme. It is that this will be taken forward in 2014/15.
Advice to Businesses 
Bassetlaw District Council has a statutory duty to enforce health and safety legislation in premises for which it has an enforcement responsibility. The Council also recognises that providing help and advice to businesses is a key and important activity, contributing to the priorities of supporting a safe environment and a thriving local economy. Advice and guidance is an effective and efficient method of improving health and safety standards throughout the district.
As well as the provision of a wide range of advice during inspections and interventions, specific literature and topic packs are also provided. New or prospective businesses are also provided with additional information on risk assessment and the management of health and safety, appropriate to the nature of the business. Although there continue to be time pressures and competing priorities for officer time within the Regulatory Team, targeted interventions will allow officers to spend some time on preventative work, advising businesses on how to protect the health, safety and welfare of their employees.
Work will continue to expand our ability to sign post to useful information and advice to businesses. During 2012/13 improvements had been made to the level of information on the website and this will be developed and refreshed during the forthcoming year. The Authority has signed up to the D2N2 LEP Better Business for All partnership which is aiming at signposting businesses to all forms of regulatory advice, not only Health & Safety
Liaison with other Organisations
Bassetlaw District Council is committed to working together with other organizations in order to ensure consistent, effective, best value services, which meet the needs of our customers. Liaison arrangements with other organizations in relation to health and safety include:
The Nottinghamshire Health and Safety Working Group
This Group meets every quarter and is attended by all Nottinghamshire Local Councils, a representative of the Nottinghamshire Chief Officers Group and also a liaison officer from the Health and Safety Executive (HSE). The purpose of this group is to provide effective liaison between Local Authorities and the HSE on Health and Safety matters and a forum to discuss/implement fair and consistent enforcement approaches. The Group also evaluates common training needs and has a co-ordination role for county-wide training events. Another important feature of this groups work is benchmarking of procedures, as well as financial and statistical data, and the sharing of good practice. The work on joint initiatives has improved the awareness of occupational safety and health issues throughout Nottinghamshire.
Other Liaison Arrangements
Comments given in respect of Public Entertainment Licence applications to Legal and Estates Services 
Comments given to The Planning Services Department in respect of planning applications involving business premises 
Formal liaison with public bodies, such as, Health Protection Agency through active participation in the health improvement programme, the Nottinghamshire Infection Control Meetings and the Nottinghamshire Environmental Liaison Committee.
Bassetlaw District Council Licensing Section in respect of The Licensing Act 2003.
Health and Safety Executive.
Health and Safety Executives Incident Contact Centre regarding reported accidents.
A countywide business consultation group has been established to consider Environmental Health and Trading Standards enforcement issues
Signatory and supporter of Beter Business for All through the D2N2 LEP
It is estimated that the resource allocation for these activities is around 150 hours (FTE 0.1) of Officer time.
Health and Safety Promotion
Educational and promotional works are considered to be important aspects of the delivery of a comprehensive Health and Safety Service. Promotion of health and safety is achieved by using the most appropriate method to the target message or business. Past examples include; visits to premises with targeted advice and information on occupational dermatitis in the hairdressing and beauty industry, the distribution of information during European Health and Safety Week, and involvement in the organisation and publicity of health and safety training events for specific industries. Activities of this nature will form a significant part of our work this year. It is anticipated that the above activities will require a resource allocation of around 250 hours of Officer time. (FTE 0.15)
Resources
Staffing Allocation 
The table below details the proposed allocation of Officer time for Health and Safety activities and the one below  the level of financial support for the Health & Safety Service.
| | |
| --- | --- |
| Officer | FTE |
| Environmental Health Officer | 0.8 |
| Technical Officer | 1.0 |
| Env. Health Manager | 0.2 |
| Admin | 0.2 |
| | |
| --- | --- |
|   | Safety Financial Allocations 2014 /2015 |
| Employees | 83,110 |
| Transport | 4,180 |
| Supplies | 2,483 |
| Central Support | 29,857 |
| Income | - |
| Net Expenditure | 119,630 |
Staff Development Plan
Staff Development and Appraisal meetings are conducted annually for all staff and these are used to set performance objectives and to identify any training and development needs of staff. Training and Development needs are ascertained and linked in with corporate objectives. Reviews are undertaken before and after training/development activities in order to ascertain the expectations and outcomes of such activities. During 2013 officers completed the RDNA tool as part of the appraisal process. Information from this process also informs training requirements.
The Nottinghamshire Health & Safety Liaison Group, on an annual basis, conduct a County-wide review of training/development needs which may lead to provision of cost effective training events for enforcement Officers across the County.
The Training budget for 2014/15 will be determined corporately and allocated to service areas by the Head of Service. Health & Safety training needs are prioritised in the context of the wider service requirements identified in the service wide training plan.
Specific Health and Safety Training coursed attended during 2013/14 include
8 Officers Investigation, preparation & prosecution of cases
3 Officers Health & Safety 5 Pack + 1 course
1 Officer Primary Authority Introduction
1 Officer Scratchers & tattooists
1 Officer Successful Prosecutions
1 Officer HSE Update 
Quality Assessment
Quality Assessment
Bassetlaw District Council is committed to providing high quality services and ensuring that such services are reviewed for quality of delivery. The Council as a whole was awarded the Investors In People (IIP) award in 1998 and retained this award following assessments in 1999/2000 and in 2006, 2009 & 2012.
Bassetlaw District Council operates a quality procedure that provides for monitoring mechanisms. The quality of inspections is achieved and monitored by:
Quality procedures for inspections and enforcement
The use of standard reporting formats
Checking of notices prior to service
Monitoring of inspection reports
Evaluation of post-inspection questionnaires
The appropriate Principal Environmental Health Manager will take any necessary corrective action where a problem is identified. This could include additional support and monitoring, additional training, inconsistency reviews, suspension or disciplinary action.
Any formal complaints made against the service are investigated and monitored in accordance with the Council's Complaints Policy.
The Nottinghamshire Health and Safety Working Group provide a focus for interauthority auditing against the HELA Audit Protocol for Inter-Authority Auditing and also peer review exercises. During 2010/11 the Nottinghamshire Health and Safety Working Group carried out a number of benchmarking activities including review of premises risk ratings, accident investigations and service requests. In addition, consistency exercises and also took place.
Local Authorities were required to be compliant with S18 guidance by spring of 2011. The Nottinghamshire authorities have all completed the Section 18 compliance tool and benchmarked their results against each other and on a wider level.
For 2013/14 we will look at ensuring compliance with any requirements of the new Code of Practice.
Review Process
Review against Service Plan 
Health and safety inspection performance was reported annually as part of the Authority's performance management framework, which was subject to monitoring by the Overview & Scrutiny Committee. This local target is no longer operational. On an ongoing basis, the Principal Environmental Health Manager (Regulatory) will monitor progress against the identified objectives and improvements contained in this plan which will continue to be reported, through this document and associated report to Cabinet and full Council.
This Service Plan will be reviewed annually and amended according to the changing legislative landscape and the demands and requirements upon the service. The plan will include a review of the previous year's performance and a plan of continuing improvement for the forthcoming year.
Performance Review of Planned Objectives for 2012 / 2013 
Review of Objectives for 2013 / 2014
 
Objective
Planned Outcome
Compelted
1
Completed targeted inspections and intervention plan
Completed
Yes
2
Participate in Wellbeing at Work programme within Bassetlaw & support as required any wider roll out of scheme with partner organisations
Further Organisation receive Awards at Gold, Silver and Bronze
Yes
3
Complete survey of the district to capture up to date H&S information and to identify unregistered cooling towers & Evaporative Condensers 
Survey Completed & records updated
Ongoing
4
Provide Web Based H&S resource for event organisers
Web pages live
Not Completed
5
Provide web based resource for young people entering the world of work and direct engagement
Web pages live & attendance at events as appropriate
Not Completed
6
Formalise Primary Authority arrangements with National Company
Contracts Signed off & partnership progressing
Ongoing
7
Engage with businesses to provide H&S resources via networking and business events as an alternative to inspections
Minimum of 5 events
Completed
8
Review S.18 compliance and compliance with new national Code.
Following Code
Ongoing
9
Configure  IT system to new H&S reporting requirements to remove need for manual returns.
System re-coded
Completed
Complete Intervention Plan - Work on H&S has been ongoing throught the year and outcomes have been reported as required to the HSE.
Wellbeing at Work - This project has continued apace with further workplaces receiving awards at Gold, Silve, Bronze and maintenance at the awards ceremony held at Hodsock in July 2013. The project is currently being evaluated and it is expected that it will be rolled out across Nottinghamshire as a model scheme for the County.
Cooling Towers & Evaporative Condensers - The Environmental health team continues to try to identify further cooling equipment for legionella assessment and add to the data base as appropriate.
Provide Web based H&S resource for event organisers - This has yet to be completed and will be been carried forward due to the time pressures in 2013/14. The department has engaged with the beginnings of a SAG. 
Young People - Officers took part in the plugged event with a stand and a completion designed to raise awareness of safety  when entering the world of work. Work to create web pages has been carried forward due to time pressures in 2013/14.
Formalise Primary Authority arrangements with National Company - This will be progressed as and when the Company and the Authority are in a position to be able to do so. In the absence of a formal agreement work has still continued to support this major local employer and will continue for the future.
Business Engagement - Business events have been attended by the Principal Environmental health manager and other officers throughout the year. The Authority has engaged with the D2N2 LEP and has signed up to a pledge of support for the Better Business for All scheme. Events with the Notts & Derbyshire Chambers of Commerce have also taken place and been supported.
Review S.18 compliance and compliance with new national Code - This is ongoing as changes to guidance are still taking place in relation to the type of Health and Safety intervention and inspection work to be undertaken by LAs. We remain alert to the new guidance and endeavor to still carry out targeted and proportionate work to ensure safety in workplaces within the district.
Configure IT system to new H&S reporting requirements -  Although this was thought to have been completed, further changes and guidance to the HSE reporting requirements has meant that a manual return will be made again this year
Enforcement Actions
| | | |
| --- | --- | --- |
| Improvement Notices | Prohibition Notices | Prosecutions |
| 11 | 6 | 1 |
Planned Objectives for 2014 - 2015 
| | | | |
| --- | --- | --- | --- |
|   | Objective | Planned Outcome | Date of Completion |
| 1 | Complete targeted Inspections and Intervention Plan | Completed | March 2015 |
| 2 | Participate in Wellbeing at Work programme within Bassetlaw & support as required any wider roll out of scheme with partner organisations | Further Organisation receive Awards at Gold, Silver & Bronze. Scheme extended to Notts | March 2015 |
| 3 | Provide Web based H&S resource for event organisers. Participate in SAG as required | Web pages live. | March 2015 |
| 4 | Provide web based resource for young people entering the world of work and direct engagement | Web pages live & attendance at events as appropriate | March 2015 |
| 5 | Progress Primary Authority arrangements with National Company | Contracts Signed off & partnership progressing |   |
| 6 | Business Engagement | Minimum of 5 actions |   |
| 7 | Configure IT system to new H&S reporting requirements to remove need for manual returns. | System re-coded |   |
---
Last Updated on Tuesday, March 24, 2020