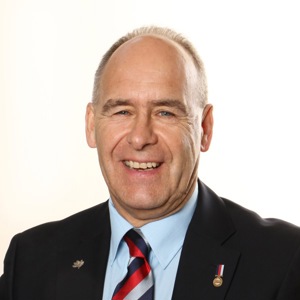 Political Party:
Committees:
Health and Safety Committee
Licensing Committee
About Me:
I have been a Worksop resident for the last 29 years and am proud to live in the ward I represent. Married with a daughter, I retired in 2018, having spent the last 11 years working for the charity Help for Heroes as a Regional Manager. In 2012 I was honoured and humbled to be able to carry the Olympic Torch as part of the Olympic Torch Relay. I have been involved in the 'Green Stuff' Military in one way or another for around 30 years and received a commissioned (class B) in the Territorial Army in 2002. I held the rank of Major with the Nottinghamshire Army Cadets Force before retiring and now volunteer as Police cadet leader training police cadets.

I believe strongly that we can all work together to improve our communities and that volunteering is not only a way of putting something back, but can also open up great opportunities. In 2016, I was awarded the British Citizen Award Medal of Honour as well as being presented with the Points of Light Award by then Prime Minister, David Cameron. A regular blood donor, in March 2019 I donated my 100th pint of blood.
Tony is the Council's Armed Forces Champion for Bassetlaw.
---
Last Updated on Monday, May 24, 2021